Has Live-Streaming Killed the Webinar?
Posted on

March 2, 2017

in B2B, Blogging, blogpost, Business Advice, Business Growth, Business strategy, Content marketing, customer focus, digital marketing, Evaluation, Featured Articles, Information products, Inspiration, internet trends, Marketing Discussions, Marketing Fundamentals Ltd, Mike Pitt, Opportunity, Professional Services, Return on Investment, SME & SMB Owners, Social Media Marketing, Success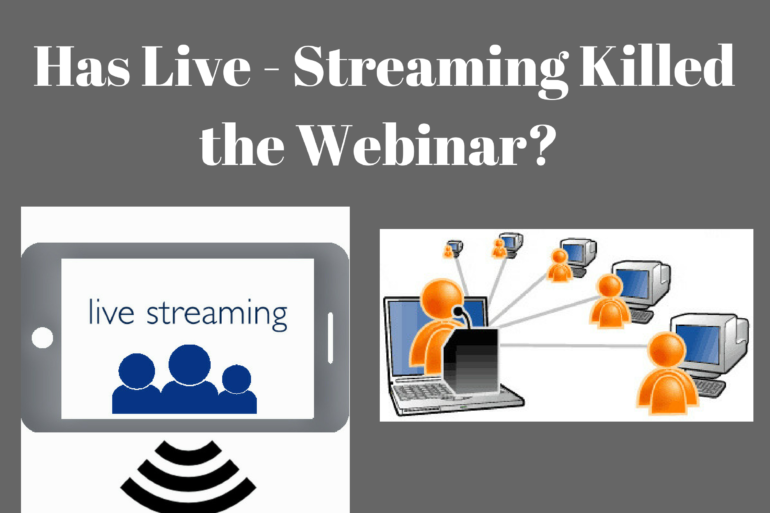 Live-streaming is everywhere at the moment. You only have to pick up your smartphone and you can watch livestreams on Facebook, Instagram, Periscope, YouTube Live, Google Hangouts and Instagram. There's also Blab and specialist live stream services such as Ustream, Twitch and YouNow. There's a lot of choice and varying levels of content quality but it seems that live-streaming is here to stay. What does this mean for the business webinar? Has live-streaming killed the webinar? Has it been left behind like VHS Cassettes and record players? Please note, I am aware that there has been a Hipster-led revival of the record player but let's leave that discussion for another time.
Has Live-Streaming killed the Webinar?
The Advantages of Live- Streaming
One of the clearest benefits of broadcasting a live-stream from a brand or company's perspective is that it is immediately accessible to your followers and supporters. Within a couple of clicks they can be participating in your live-stream  and you can react to their comments and questions in real-time. Traditionally webinars needed to be pre-promoted beforehand and then attendees needed to access a webinar link at a given time. Pre- recorded webinars are also used by many companies and are available on demand. Some live- streams are pre-promoted but it is clear that a lot are broadcast at relatively short notice.
From a video creators point of view live-streams are easy to produce. There's no requirement for hours of editing or time consuming studio setups because you can simply record from your smartphone or laptop.  So has the widespread adoption of live-streaming brought only benefits?  Not exactly…
The Disadvantages of Live- Streaming
When compared to a well-structured and or well-edited video from your favourite vlogger or company the average live-stream is a much poorer  audiovisual experience. The lighting is not as good and the sound quality is not as good. In most cases sound and video quality do not match the levels achieved by pre-produced videos. The live connection with your audience is extremely valuable but for those watching a recording of the live-stream later the experience is not as satisfactory.
Many live-streams last around 60 minutes which means a significant part of your day could be taken up watching talking heads.
Is the Webinar Dead?
No. For B2B companies there is still a a place for webinars within their marketing arsenal. Content quality is important. A perfectly scripted and focused webinar with a mix of presentation materials, live action and audience interaction has proven to be particularly effective with a targeted audience. The webinar remains an excellent method of selling B2B products and services. Many successful B2B companies including Salesforce still make extensive use of webinars and I'm sure they will continue to do so.
B2B Content Marketing Agency London
Marketing Fundamentals Ltd is a B2B Content Marketing Agency in London that creates Content and manages Social Media for Professional Services firms. We hope you find this offer useful.
If you would like our help creating and executing a Content Marketing Plan for your business or organisation give us a call on +44 (0) 845 2264 247. You can also email us via mail@marketingfundamentals.com
On our YouTube channel you will find marketing advice, business advice & inspiration. Subscribe if you work in Marketing for Professional Services or are a business owner or solo-preneur trying to grow your business. New uploads on Wednesdays.
Best regards,
Mike Pitt
Founder, Marketing Fundamentals Ltd
Subscribe to our Youtube channel
Follow us on LinkedIn
Online courses:
How to TurboCharge Your Business with a Blog
Meet Edgar Social Media Management
TurboCharge Your Twitter Presence
Quora For Business
This is blog post post number 394.