Ignite B2B Conference 2017 London
Posted on

June 23, 2017

in B2B, Blogging, blogpost, Business Growth, Business Help, Business strategy, Content marketing, Culture, customer focus, digital marketing, Evaluation, Featured Articles, Inspiration, LinkedIn, Marketing Discussions, Marketing Fundamentals Ltd, Mike Pitt, Mindset Matter, Opportunity, Professional Services, Results, Return on Investment, SME & SMB Owners, Social Media Marketing, Social media strategy, Success, Twitter, Visual Content, YouTube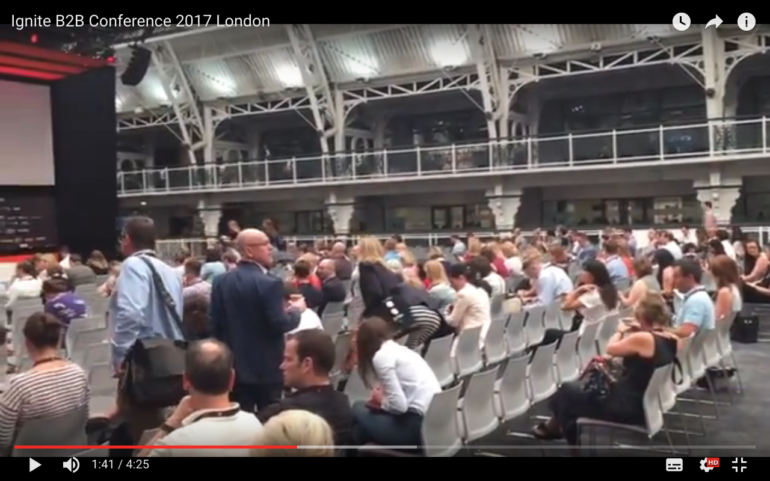 This video is called Ignite B2B Conference 2017 London By Mike Pitt. This is video number 192 and blog post 410. You can subscribe to our channel here . Mike Pitt is the Founder of Marketing Fundamentals Ltd, which is a B2B Content Marketing Agency in London. In this video Mike Pitt gives a vlog style account of his day spent at the Ignite B2B Conference at the Business Design Centre, Islington London on 22nd June 2017. This video will be of interest to business owners, B2B marketing managers, Content Marketing professionals, Social Media Managers and anyone marketing to a B2B audience.
Ignite B2B Conference 2017 London
Ignite B2B is an annual conference hosted by B2B Marketing and held at the Business Design Centre. Its attendees are B2B marketers who come to hear from the leading lights of the industry and to network with their peers. On the 22nd June there were 8 content streams.  In this video Mike Pitt gives you his summary of the day. If you have enjoyed this post you will also enjoy, YouTube Creator Connect London – At Google HQ
B2B Content Marketing Agency London
Marketing Fundamentals Ltd is a B2B Content Marketing Agency in London that creates Content and manages Social Media for Professional Services firms. We hope you find this information useful.
If you would like our help creating and executing a Content Marketing Plan for your business or organisation give us a call on +44 (0) 845 2264 247. You can also email us via mail@marketingfundamentals.com
On our YouTube channel you will find marketing advice, business advice & inspiration. Subscribe if you work in Marketing for Professional Services or are a business owner or solo-preneur trying to grow your business. New uploads on Wednesdays.
Best regards,
Mike Pitt
Founder, Marketing Fundamentals Ltd
Subscribe to our Youtube channel
Follow us on LinkedIn
Online courses:
How to TurboCharge Your Business with a Blog
Meet Edgar Social Media Management
TurboCharge Your Twitter Presence
Quora For Business
This is blog post post number 410.