B2B: How Proactive are you With Existing Clients?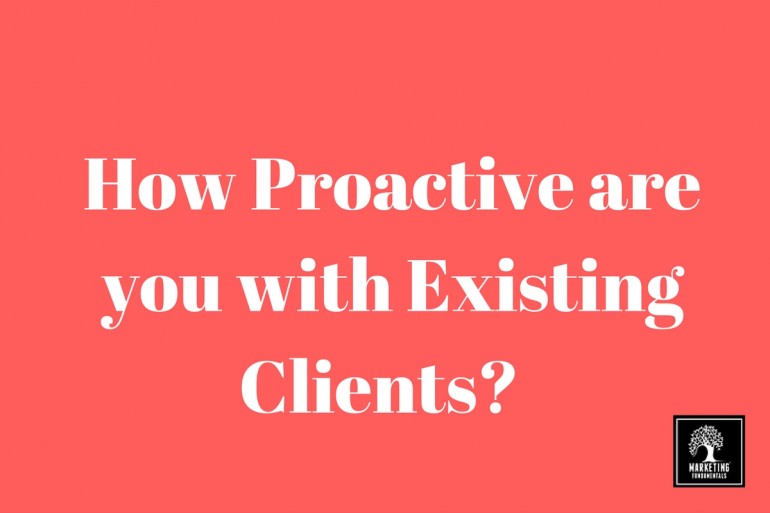 In a B2B business it is very easy to settle into a cycle of fulfilling all client requests and providing a good level of service. This should be the foundation of your work but you should also be proactive. B2B businesses are really in the 'relationship building' business. The stronger your relationships with your clients the better it will be for your business and not just in warm feel-good sense, being proactive will directly impact your bottom line.
Being Proactive Will Impact Your Bottom Line
When you are proactive with your clients they will recognise you as business partners rather than just suppliers or vendors. By understanding the dynamics of your clients' businesses you can make a greater contribution to their success. Develop a mindset within your teams where you are actively searching for ways to solve your clients' problems. Help them to become more successful beyond the parameters outlined in their project brief to you. When you take this approach new opportunities will be presented to you. These may come directly from your clients who have been reminded of your expertise or your proactivity or may uncover completely new opportunities for your clients.
What's the Rationale For This Proactivity?
According to research conducted by Forrester* it can cost 5 times more to acquire a new customer compared to satisfying and retaining existing customers.  A 5 percent reduction in customers ending their  relationships with you (churn rate) can increase profits by 25-125 percent, depending on the industry. Being proactive with your clients will lead to better levels of customer retention. The biggest reasons* clients give for ending relationships is  treatment they receive (64%) and dissatisfaction with products/ service (14%). Proactivity on your part will increase your customer's satisfaction levels.
How Proactive Have you Been, Honestly?
Now ask yourself how proactive you and your teams have been recently. Be completely honest with yourself and make a list of all the examples that you can think of.  More than likely there is considerable scope for improvement. You know what you need to do. Speak with your teams and inspire them to be more proactive. The Pareto Principle applies here as it does in most scenarios, 80 % of your future business will come from 20% of your current clients.
If you have liked this post you will also like the following related posts:
Have you set up Your Services Business For Success?
B2B Content Marketing Agency London
Marketing Fundamentals Ltd is a B2B Content Marketing Agency in London that creates Content and manages Social Media for Professional Services firms. We can help you plan and execute your Social Media Strategy.
If you would like our help creating and executing a Content Marketing Plan for your business or organisation give us a call on +44 (0) 845 2264 247. You can also email us via mail@marketingfundamentals.com
On our YouTube channel you will find marketing advice, business advice & inspiration. Subscribe if you work in Marketing for Professional Services or are a business owner or solo-preneur trying to grow your business. New uploads on Wednesdays.
I hope you have found this information useful.
Best wishes,
Mike Pitt
Founder & CEO – Marketing Fundamentals Ltd
*Source:  Alan E. Webber, "B2B Customer Experience Priorities In An Economic Downturn: Key Customer Usability Initiatives In A Soft Economy," Forrester Research, February 19, 2008.
**Source: Kissmetrics
Subscribe to our Youtube channel
Follow us on LinkedIn
Online courses:
How to TurboCharge Your Business with a Blog
Meet Edgar Social Media Management
TurboCharge Your Twitter Presence
Quora For Business
This is blog post post number 368.
Follow us on Social Media