B2B – What are Your Objectives for 2016?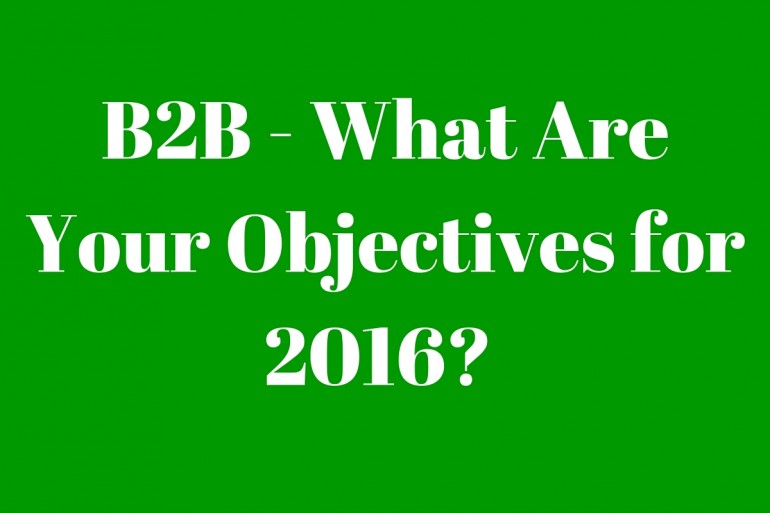 At this time of year we set aside some time to review our performance against our stated objectives for the year. I am sure that this is a process that you also go through for your professional services  or B2B firm. As I type this post I have Marketing Fundamentals Ltd's 2015 objectives on a sheet of A4 beside me and it is great to be able to confirm that we have achieved most of our goals for this year. Undoubtedly one of the reasons for this success is the simple fact that I printed out our goals in December last year and carried them with me in my briefcase every day.  This has meant that I have had a chance to review them at any stage and that we have remained focused on achieving them. Carrying around a sheet of paper with the company objectives on them has been very effective. Of course the same can be achieved with a number of different apps or software. For example, we use Trello at Marketing Fundamentals Ltd and our objectives for 2015 were also converted into a Trello board. The only objective that we did not make any progress on at all was the formation of a Mastermind Group. We have not formed a mastermind group. We will progress that in 2016. We are now in the process of writing our objectives for 2016.
What are Your Objectives for 2016?
Are you trying to raise your company's profile by marketing consistently? Do you need to demonstrate your company's authority or thought leadership credentials? Is building your audience or a community around your company one of your stated objectives? Are you committed to a Content Marketing Strategy but do not know how to execute it? What do you have planned in terms of Social Media activity? Fortunately these are all scenarios that we can help you with because these are some of the problems or pain points we have solved for our current clients. We would be happy to help you too. For ease of reference a list of our services and products is below.
1. Content Marketing Consultancy and Execution  – We create blog & Social Media Content and implement it for you leaving you to focus on your core business. We will create a bespoke bundle of services dependent on your objectives.
2. Video Content – We create video Content to promote your business and for use on YouTube / Vimeo etc.
3. Social Media Consultancy – We devise a Social Media Strategy and implement it for you. Watch a testimonial here.
4. Blog Post Writing – We create a number of posts for you and supply to you for you to upload to your site. Thirty posts is a popular number because when you have created thirty blog post traffic to your site increases by up to 30% Source: Social Media Examiner.
5. Blog Mentoring – Regular face to face sessions instructing business owners and marketing professionals how to blog to promote their business and organisations. Booked as 12 weekly sessions and can be delivered via Skype if distance prevents face to face meetings. Note – There is homework in between each session.
6. Email Copywriting – You've built a mailing list but don't really know what to say to maintain momentum? We can do this for you.
7. Company Workshops – Content Marketing & Social Media 1 day Workshops delivered at your company's premises. Watch a testimonial here. We recently completed a Social Selling Workshop that was very well received by a company whose head office is in Silicon Valley.
8. Online Blogging Course – Learn on Demand by registering for our our Udemy course How to TurboCharge Your Business with a Blog'
9. Book – Buy our 'How to TurboCharge Your Business with a Blog' paperback book from Amazon. There are also a Kindle and Audio book versions available. Watch a book testimonial here.
10. Twitter Course: Twitter: TurboCharge Your Twitter Presence Course
11. Blog – Read our Marketing Fundamentals Ltd blog.
12. YouTube – Watch Marketing Fundamentals Ltd videos on our You Tube Channel.
B2B Content Marketing Agency London
Marketing Fundamentals Ltd is a B2B Content Marketing Agency in London that creates Content and manages Social Media for Professional Services firms.
If you would like our help creating and executing a Content Marketing Plan for your business or organisation give us a call on +44 (0) 845 2264 247. You can also email us via mail@marketingfundamentals.com
On our YouTube channel you will find marketing advice, business advice & inspiration. Subscribe if you work in Marketing for Professional Services or are a business owner or solo-preneur trying to grow your business. New uploads on Wednesdays.
Thanks for reading!
Best regards,
Mike Pitt
Founder & CEO
Marketing Fundamentals Ltd
Subscribe to our Youtube channel
Follow us on LinkedIn
Buy our book!
Follow Mike on Twitter
This is blog post number 327.
Follow us on Social Media