Blockchain Expo Global 2018 London
Posted on

February 8, 2018

in B2B, Big businesses, blogpost, Business Growth, Business Help, Business strategy, Community, Content marketing, digital marketing, Exhibitions, Featured Articles, Marketing Discussions, Marketing Fundamentals Ltd, Mike Pitt, Opportunity, Professional Services, Results, Return on Investment, SME & SMB Owners, Success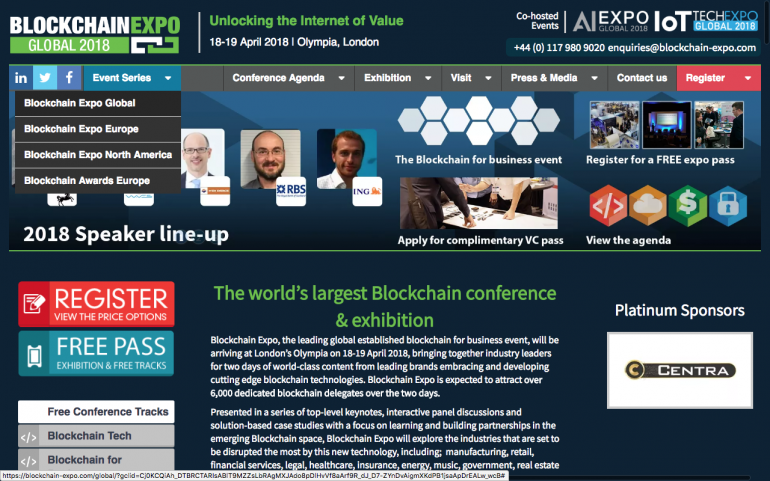 Blockchain and Blockchain technology are words that you cannot escape at the moment. Blockchain technology is the foundation on which cryptocurrencies have been created and enables value to be transferred via a public ledger without the need for an intermediary. Usually your bank or a third party such as PayPal performs the the role of intermediary. However, the potential disruption that Blockchain technology could bring to the existing status quo is not limited to the financial sector.
I have written about Steemit before, if you are unsure what Steemit is, please watch, What is Steemit? and  read Conventional Social Media vs Steemit. Steemit has changed perceptions of how Social Networks can work, by giving rewards directly to content creators.
Blockchain Expo Global 2018
On April 18th and 19th, I will be attending the Blockchain Expo Global at London's Olympia. Watch my video announcement here. There are still some free registrations available. If you are also attending it would be great to meet you there. If you have read or watched my recent posts you will know that my focus is on meeting other Steemians and others interested in blockchain technology in real life. It would be great to meet you too.
Free sign up for the event here.
B2B Content Marketing Agency London
Marketing Fundamentals Ltd is a B2B Content Marketing Agency in London that creates Content and manages Social Media for Professional Services firms. We hope you find this information useful.
If you would like our help creating and executing a Content Marketing Plan for your business or organisation give us a call on +44 (0) 845 2264 247. You can also email us via mail@marketingfundamentals.com
On our YouTube channel you will find marketing advice, business advice & inspiration. Subscribe if you work in Marketing for Professional Services or are a business owner or solo-preneur trying to grow your business. New uploads on Wednesdays.
Best regards,
Mike Pitt
Founder, Marketing Fundamentals Ltd
Subscribe to our Youtube channel
Follow us on LinkedIn
Online courses:
How to TurboCharge Your Business with a Blog
Meet Edgar Social Media Management
TurboCharge Your Twitter Presence
Quora For Business
This is blog post post number 445.