5 effective content marketing techniques for professional services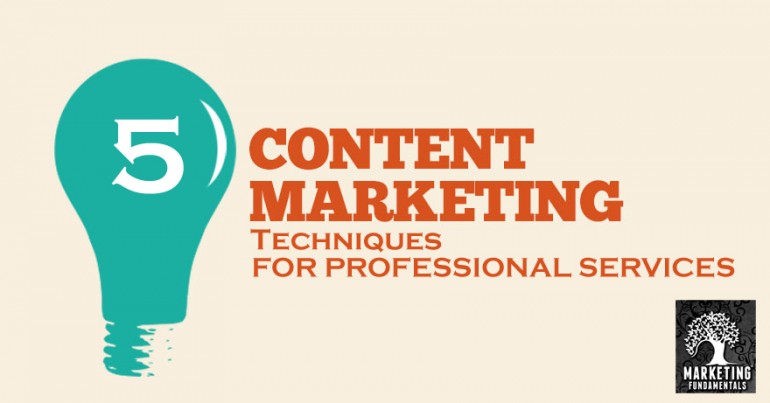 If you are a business owner with experience of blogging you might be used to the idea that "content is king". So in order to keep your business ranking high in search engines, you have to keep informative and high quality content on your site. Besides keeping interesting content you also have to market the content well. In this post, we have highlighted some effective content marketing techniques for you. Follow these for improved traffic to your website.
Content Marketing Techniques – Top 5
 Keep your business blog intriguing
Putting up a super interesting business blog can be one of the most effective strategies for marketing your content. While a blog gives a voice to your brand, an intriguing blog goes a step ahead and builds a strong rapport with your existing and prospective clients. Spruce up your existing blog with a lot of engaging content and you will see how people would look forward to your content.
Guest posts can work wonders
Another viable way to bring more traffic to your blog is by creating a guest blog. Often underrated, these blogs can be the best way to buck your online popularity. Posts from good guest bloggers will attract considerable attention of viewers who in turn will be inclined to check out your site. Try this option for more traffic with a few clicks.
Add innovation with images and info-graphic
You can also add innovation to your blog posts and your website with a lot of images and videos. Your audience is bound to be enthralled with a series of powerful and intriguing images. Apart from images, info graphics is a powerful way to illustrate your content. These graphics are extremely popular as they have a stunning combination of images and ideas. Simply convert your idea into a superb info-graphic to pull up more customers in a single go. Share these graphics on popular social media websites and your clients are sure to love it.
 Apart from images and graphics you can also add up a lot of superb videos to launch a sneak peak of some new products or services. These snippets are good to grab a lot of attention for your blog. So sharing videos is going to be one of the best strategies for your business.
 Ask your clients for some testimonials
Unless you share success stories, your business will not seem credible. Thus, in order to increase the credibility of your business, testimonials are absolutely necessary. Ask your customers to send some reviews of your business. With good reviews reaching your target audience, your company popularity will soon increase. This age old marketing strategy is based on social proof and 'word of mouth advertising' and still works wonders for almost all businesses.
White papers and PDF downloads are a great for customer acquisition
Acquiring new customers can be expensive. Therefore, businesses aspire to create loyalty amongst existing customers. If you want to strengthen your relationship with loyal customers – over deliver on their projects. Surpass expectations. You could also create value added communications for them over and above what they are expecting from you.
These are effective marketing techniques for your business. Try them out and enjoy increased engagement.
We hope this information has been useful to you. If you'd like to talk to us about creating effective Content Marketing for your business give us a call on +448452264247 or email us at mail@marketingfundamentals.com
Best regards,
Marketing Fundamentals Team
Follow us on Social Media