Entrepreneurs – 5 Reasons why 'Business as Usual' is not Good Enough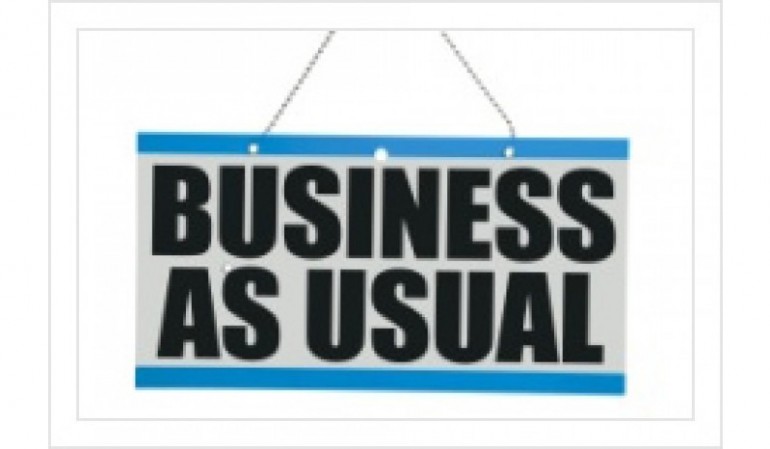 This post may contain affiliate links please read our disclosure for more info.
There are a lot of businesses proclaiming 'business as usual', usually against a backdrop of a competitive marketplace, a tough economic climate, building work or inclement weather; we appreciate that there are benefits to this message of consistency and reassurance. However, if you are trying to grow your business using connected leadership and establish yourself in your niche, 'business as usual' is the antithesis of what you need. Below are 5 reasons why business as usual is not good enough.
Business as Usual is Not Good Enough
1. Your Competitors
In our wonderful online and offline world your competitors know what you are doing and can work out your business model exactly. Not only do they know what you did last summer but most probably the whole of last year.
2. Technology
Technological advances are affecting almost every industry and you must allocate resource and most likely money to keep abreast of these changes and to apply them to your business. Those who adapt most successfully will forge ahead. M-commerce or business conducted via smartphones is just one example.
3. Your Staff
Your staff are motivated by more than their salary or pay cheque; although they may not say this directly to you as the business owner really they want to feel they are part of a special company; one that strives to change the nature of its industry by being innovative and forward-thinking.
4. Your Profits
Even if you made great profits last year that is no guarantee that this year will be the same. The path to continued business success is not in repeating what you did last year or resting on your laurels. Believe it or not there will come a point when the smartphone market is saturated with iPhones and even sales of Amazon's Kindle will have peaked – no doubt by then Apple and Amazon will have introduced new products or pivoted in a new direction.
5. Your Vision
We've never read a business plan that stated an intention to have a few years of 'business as usual' or 'more of the same'. If you are committed to your vision for your business you must keep striving to move forward whether that means new products/ services or entering new international markets.
Are you an entrepreneur or business owner trying to avoid 'business as usual'? We can certainly help you from a marketing perspective.
If you have liked this post you will also like the following posts:
B2B: How Proactive are you With Existing Clients?
B2B Content Marketing Agency London
Marketing Fundamentals Ltd is a B2B Content Marketing Agency in London that creates Content and manages Social Media for Professional Services firms. We hope you find this information useful.
If you would like our help creating and executing a Content Marketing Plan for your business or organisation give us a call on +44 (0) 845 2264 247. You can also email us via mail@marketingfundamentals.com
On our YouTube channel you will find marketing advice, business advice & inspiration. Subscribe if you work in Marketing for Professional Services or are a business owner or solo-preneur trying to grow your business. New uploads on Wednesdays.
Best regards,
Mike Pitt
Founder, Marketing Fundamentals Ltd
Follow Mike on Pinterest
Subscribe to our Youtube channel
Follow us on LinkedIn
Online courses:
How to TurboCharge Your Business with a Blog
Meet Edgar Social Media Management
TurboCharge Your Twitter Presence
Quora For Business
Follow Mike on Twitter
This is blog post post number 60.
Follow us on Social Media