Business Owners – 5 Reasons why you can Never Stop Marketing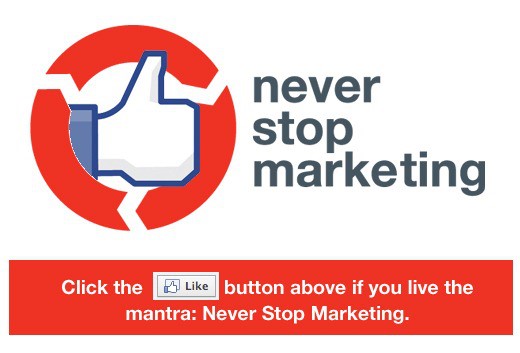 We appreciate that finances are tight – new customers may be harder to come by and existing customers more difficult to retain but there is an activity that growing businesses really cannot afford to stop and that is marketing.
Our own anecdotal evidence plus research that we have cited in our white paper entitled 'Getting More Customers (and sales – 12 Ways to Stand out from Your competition', suggests that failure to attract enough customers is the biggest cause of business failures full stop. Being good at what you do – your core business function – is not enough. You also need to be good at attracting new customers and retaining existing customers for your business to prosper. Below are five reasons why you can never stop marketing your growing business.
Growing businesses – Never Stop Marketing
1. Not a Quick fix
If you are intent on building your business you should appreciate that marketing should not be considered a quick fix to get some sales or boost cashflow. It must be thought of as a long term activity. Many people have compared marketing to a marathon rather than a sprint – a triathalon is perhaps more appropriate!
2. Cumulative Benefits
If you are fortunate enough to be the owner of a business that has grown significantly over the last few years, can you pinpoint exactly when you had the breakthrough? Can you trace it to a particular tweet, exhibition stand? Email newsletter? The answer for most is probably no and that's because you were engaged in a continuous process of marketing – its benefits are cumulative.
3. Your Competitors
Do you think that your competitors will stop their marketing too? It's unlikely. Have you ever wandered up and down a local high street and wondered why some restaurants are always pretty busy while their competitors are empty? Sometimes they are next to each other – both experiencing the same economic downturn – but reacting to it in different ways. Often the busier restaurant is marketing itself better. See for yourself and give us your opinion.
4. The World Changes
Simple but true – the world is constantly changing and business is evolving too. Here are some modern day words that would have meant nothing to business owners in 1985- Smoothies, website hosting companies, search engines optimization.
5. Do you Want Your Business to Grow?
If you do – marketing will be an integral part of the growth process. You'll need your target audience(s) to be aware of the products / services you offer – not only in your locale but also nationally and perhaps internationally. Marketing is as fundamental to your future success as good financial management software and staffing.
B2B Content Marketing Agency London
Marketing Fundamentals Ltd is a B2B Content Marketing Agency in London that creates Content and manages Social Media for Professional Services firms.
If you would like our help creating and executing a Content Marketing Plan for your business or organisation give us a call on +44 (0) 845 2264 247. You can also email us via mail@marketingfundamentals.com
On our YouTube channel you will find marketing advice, business advice & inspiration. Subscribe if you work in Marketing for Professional Services or are a business owner or solo-preneur trying to grow your business. New uploads on Wednesdays.
We hope you find this information useful.
Best wishes,
Marketing Fundamentals Team
Subscribe to our Youtube channel
Follow us on LinkedIn
Online courses:
How to TurboCharge Your Business with a Blog
Meet Edgar Social Media Management
TurboCharge Your Twitter Presence
Quora For Business
Follow us on Social Media