I'm Back on Quora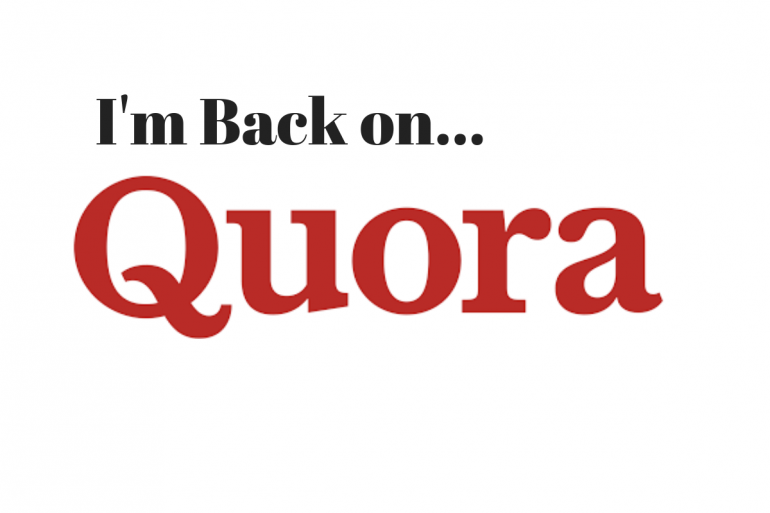 Image Credit: Marketing Fundamentals Ltd
This post may contain affiliate links please read our disclosure for more info.
This video is called, I'm Back on Quora By Mike Pitt.  Subscribe to the channel here. Mike Pitt is the Founder of Marketing Fundamentals Ltd, which is a B2B Content Marketing Agency in London.
In this video, Mike Pitt explains that he's Back on Quora; Quora is a Questions and Answers platform. Hear Mike's thoughts on why he took a break from Quora and what his approach will be now that he is back  in the video.
This video will be of interest to business owners, B2B marketing managers, Content Marketing professionals, Social Media Managers and others who use Content Marketing and Social Media to promote their B2B business or organisation.
Back on Quora
A couple of years ago, I was very active on Quora. I was answering two or three questions per day and then I had to take a break. I took a break because I was getting inundated with questions that were asking me to complete projects and to give detailed answers to strategic questions. Questions that really should come through my business, Marketing Fundamentals Ltd; people were being cheeky and asking for a full scope of work on Quora. I did not want to give out free consultancy via Quora, I was happy to give out guidelines and pointers but not to complete chargeable work for free. People were asking very specific questions about their own projects rather than general questions.
Now that I am becoming more active on Quora again, I will make a judgment on a question by question basis in terms of the information being requested. If you are considering using a B2B Content Marketing Agency, Quora is the perfect platform for you to ask me a question, that could then develop into a conversation and a subsequent meeting or phone call if you are overseas. I will see you on Quora!
If you've liked this post you will also like the following posts:
How to Increase LinkedIn Company Page Followers
LinkedIn Storytelling: How to Tell Stories on LinkedIn
My Most Viewed Post on LinkedIn
LinkedIn: Company Page Followers No Longer Viewable
Professional Services: How Do You Fill Your Sales Funnel?
LinkedIn: How to Approach Leads the Right Way
Professional Services: How Do You Build Trust in Your Company ? 5 ways
LinkedIn: Advice For B2B Businesses – Playlist
B2B Content Marketing Agency London
Marketing Fundamentals Ltd is a B2B Content Marketing Agency in London that creates Content and manages Social Media for Professional Services firms. We hope you find this information useful.
If you would like our help creating and executing a Content Marketing Plan for your business or organisation give us a call on +44 (0) 845 2264 247. You can also email us via mail@marketingfundamentals.com
On our YouTube channel you will find marketing advice, business advice & inspiration. Subscribe if you work in Marketing for Professional Services or are a business owner or solo-preneur trying to grow your business. New uploads on Wednesdays.
Best regards,
Mike Pitt
Founder, Marketing Fundamentals Ltd
Subscribe to our Youtube channel
Follow us on LinkedIn
Follow Mike on Pinterest
This is video number 243 and blog post number 477.
Follow us on Social Media