In Your Experience, Which Social Network is the Most Engaged?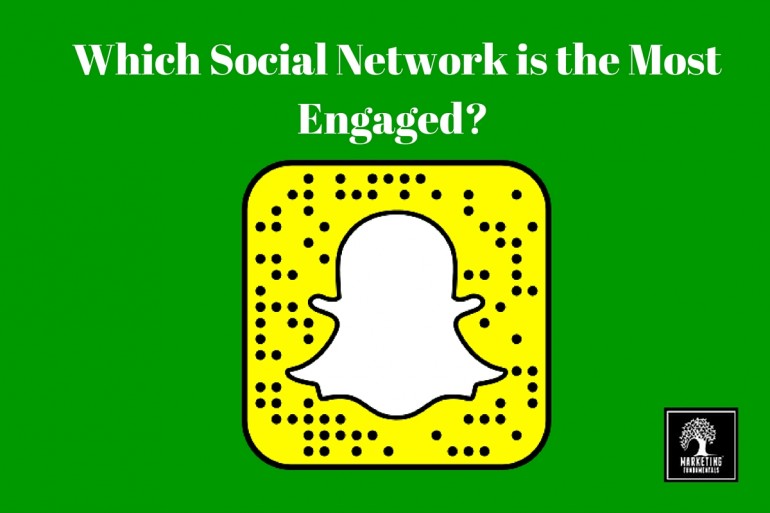 Image credit: Marketing Fundamentals Ltd
This is blog post 343. This blog post is an answer I gave on Quora to the question, In your experience, which Social Network is the most engaged?  I decided to share it here because I believe it will help those of you who work in B2B marketing.
—
Hello.
Which Social Network is the Most Engaged?
Let's pretend that all social networks are equally relevant for your audience and/ or community. Of course they are not but let's pretend. Which Social Network is the most engaged? I would say that right now Snapchat is the most engaged social network.
Snapchat User Engagement
In January of this year Snapchat announced that Snapchat users were watching 7 billion video views per day. This figure has now risen to 8 billion. This figure is impressive in itself but even more so when it is considered that it comes from a base of 100 million users. Facebook views are comparable but from a base of over 1 billion users. You Tube also has comparable daily view numbers but from a base of 1.3 billion active users.
Snapchat is different to other social networks in a few ways. For example, it is not easy to work out with any certainty how many followers someone has on the platform. It has not yet been monetized by marketing people (I am guilty of being one) but has a highly engaged youthful audience.
I am a passive user on the platform and I am currently exploring the new Geo Filters functionality. I think Snapchat will grow significantly over the next 12-18 months. If you want to follow me on Snapchat my username is TheMikePitt.  I look forward to seing you there.
—
B2B Content Marketing Agency London
Marketing Fundamentals Ltd is a B2B Content Marketing Agency in London that creates Content and manages Social Media for Professional Services firms.
If you would like our help creating and executing a Content Marketing Plan for your business or organisation give us a call on +44 (0) 845 2264 247. You can also email us via mail@marketingfundamentals.com
On our YouTube channel you will find marketing advice, business advice & inspiration. Subscribe if you work in Marketing for Professional Services or are a business owner or solo-preneur trying to grow your business. New uploads on Wednesdays.
I hope you find this information useful.
Best wishes,
Mike Pitt
Founder & CEO
Marketing Fundamentals Ltd
SnapChat: Username – TheMikePitt
Subscribe to our Youtube channel
Follow us on LinkedIn
This is blog post number 343.
Follow us on Social Media