LinkedIn Storytelling: How to Tell Stories on LinkedIn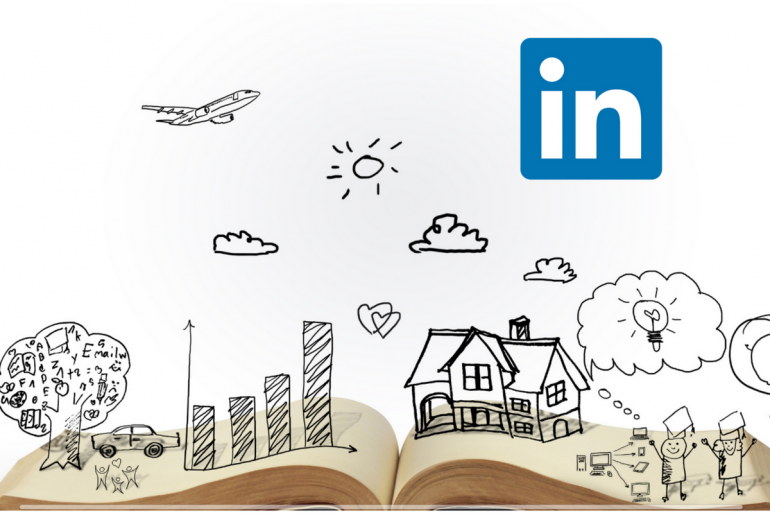 Image credit: Marketing Fundamentals Ltd
This post may contain affiliate links please read our disclosure for more info.
If you're a B2B business owner, you will already know that you need to be on LinkedIn. However, the nature of what you need to do on LinkedIn to be noticed has changed. Most of the content that does well with the LinkedIn algorithm and therefore receives lots of likes, comments and exposure is now LinkedIn storytelling. Creating content that delivers value to your audience is still an effective strategy. However, content that tells a story via the conduit of a LinkedIn status update (limited to 1300 characters) is now the Gold Standard or should I say Bitcoin standard for content on LinkedIn.
This style of content is not for those uncomfortable with putting themselves out there because that is precisely what you have to do. Even though video updates were rolled out on LinkedIn in August 2017 significantly it is the story-based status updates that are driving more traction and engagement on the platform. So, how do you create it? Below I have listed 4 tips to help you create story-based content for LinkedIn.
LinkedIn Storytelling
1. Think of Significant Life Experiences
Think of significant life experiences from your own life. Make a list of scenarios or anecdotes that you found to either contain a lesson for life or will have universal significance to those people in your network and beyond. You can take examples and stories from everyday life too.
2.  Tell Your Story
Tell your story in your own words. Write authentically in your own voice in such a way that those people who know you personally will be able to imagine you saying the words.  If you travel to work via public transport rather than private jets and expensive cars mention this and don't pretend to be something you are not. With your story, remember to have a beginning, middle and an end. Choose stories that allow you to have a clear positive message. Your stories should be true and taken from your life or some aspect of life you have witnessed.
3.  Be Vulnerable
Most people on LinkedIn have a professional persona and in reviewing profiles and work experiences we are all able to get a fair assessment of an individual's likely competencies and skillset. LinkedIn storytelling allows us to 'pull back the curtain' and discover the character of a person. Allow yourself to be vulnerable, you are not perfect and neither are those who will read your story. Admit when you have made mistakes in your life.
The stories that you choose to share together with your conclusions say a lot about you. LinkedIn storytelling will make you very relatable and increase the number of people who connect with you. It's also great to read people's feedback and comments. This has been my experience using LinkedIn storytelling.
4.  Be Succinct
There is a limit of 1300 characters for a LinkedIn status update. You can also include an image. Be efficient with your use of words and start off with a compelling first sentence because you need to entice people into clicking to read more. Many LinkedIn users will view your update via the LinkedIn mobile app; you want them click and scroll so start each story well. Don't bother to mention your company or what you do unless it is integral to the story. If your story is interesting enough readers will visit your profile to find out what you do and who you work for.
What Results Have I Experienced?
My personal experience has been that LinkedIn storytelling has led to a phenomenal increase in Linked profile views*, likes, comments on my posts and most importantly leads generated. To be more specific, I have had a new client sign up for services specifically because of one of my storytelling  posts. I know this because he told me this when he first made contact.
Want to see Some Examples?
Here are three examples from my LinkedIn feed.
Football Training, Mindset and Business
If you have enjoyed this post you will also enjoy, LinkedIn: How to Approach Leads the Right Way 
B2B Content Marketing Agency London
Marketing Fundamentals Ltd is a B2B Content Marketing Agency in London that creates Content and manages Social Media for Professional Services firms. We hope you find this information useful.
If you would like our help creating and executing a Content Marketing Plan for your business or organisation give us a call on +44 (0) 845 2264 247. You can also email us via mail@marketingfundamentals.com
On our YouTube channel you will find marketing advice, business advice & inspiration. Subscribe if you work in Marketing for Professional Services or are a business owner or solo-preneur trying to grow your business. New uploads on Wednesdays.
Best regards,
Mike Pitt
Founder, Marketing Fundamentals Ltd
* At one stage my profile views were up 6900% ! according to LinkedIn.
Subscribe to our Youtube channel
Follow us on LinkedIn
Online courses:
How to TurboCharge Your Business with a Blog
Meet Edgar Social Media Management
TurboCharge Your Twitter Presence
Quora For Business
This is blog post post number 430
Follow us on Social Media