Which is Better? Twitter Followers or YouTube Subscribers?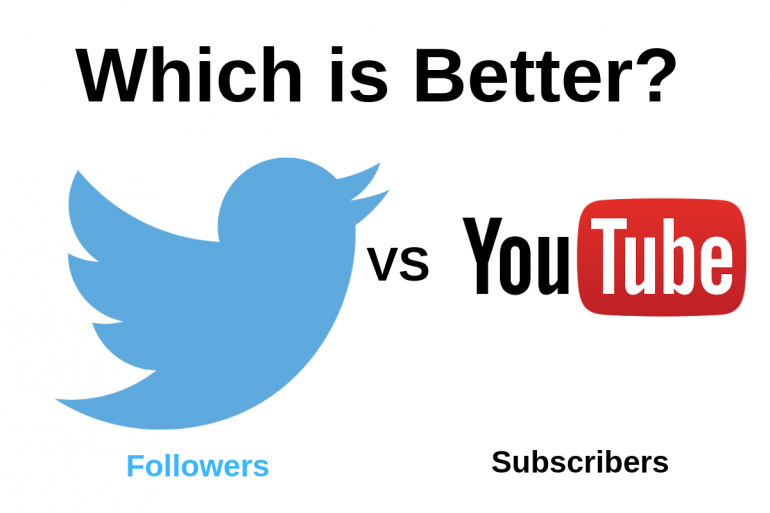 This post may contain affiliate links please read our disclosure for more info.
This video is called, Which is Better? Twitter Followers or YouTube Subscribers? By Mike Pitt. If you want to subscribe to our YouTube channel, you can subscribe to the channel here. Mike Pitt is the Founder of Marketing Fundamentals Ltd, a B2B Content Marketing Agency in London.
In this video, Mike Pitt discusses, Which is Better? Twitter Followers or YouTube Subscribers?
This video will be of interest to business owners, B2B marketing managers, Content Marketing professionals, Social Media Managers and others who use Social Media to promote their businesses.
Twitter Followers or YouTube Subscribers
As Social Media Managers for B2B businesses, you will be responsible for tracking a number of Social media metrics. Twitter Followers and YouTube Subscribers are likely to be among those that you are tracking. In this video, I discuss the relative merits of both and give my assessment as to which is of greater value to your business. Your objective if you are growing your followings on these platforms should not be to simply increase your number of followers; you should also track the behaviour of those followers and what actions they take. Watch the video for more details.
1000 True Fans
It was Kevin Kelly who first introduced the concept of 1000 True Fans in a blog post published in 2008. In this post, he explained that creative professionals do not need huge audiences to be successful. If they had an audience of 1000 True Fans and could sell them $100 dollars worth of products or services per year that would equate to a salary of $100,000. This article led to many discussions within the creative community, some doubted that it was as straightforward to achieve as Kelly implied.
What is now abundantly clear in 2019 is that the 1000 True Fans paradigm works perfectly for online businesses or businesses with an online element when you consider how online courses, membership sites and subscription services are sold to a select groupf of hardcore fans. YouTube is a particularly good platform for attracting True Fans.
Have you embraced the concept of 1000 True Fans in your marketing?  If so, let me know in the comments section below. If this is the first time you have heard of it, let me know that in the comments section.
It has taken us a while to find the right email partner but we believe that Constant Contact has the flexibility to meet our email needs and yours too.
If you've liked this post you will also like the following posts:
How to Increase LinkedIn Company Page Followers
How I Follow Up With LinkedIn Searchers
LinkedIn: How to Approach Leads the Right Way
LinkedIn Storytelling: How to Tell Stories on LinkedIn
My Most Viewed Post on LinkedIn
LinkedIn: Company Page Followers No Longer Viewable
Professional Services: How Do You Fill Your Sales Funnel?
Professional Services: How Do You Build Trust in Your Company ? 5 ways
LinkedIn: Advice For B2B Businesses – Playlist
B2B Content Marketing Agency London
Marketing Fundamentals Ltd is a B2B Content Marketing Agency in London that creates Content and manages Social Media for Professional Services firms. We hope you find this information useful.
If you would like our help creating and executing a Content Marketing Plan for your business or organisation give us a call on +44 (0) 845 2264 247. You can also email us via mail@marketingfundamentals.com
On our YouTube channel you will find marketing advice, business advice & inspiration. Subscribe if you work in Marketing for Professional Services or are a business owner or solo-preneur trying to grow your business. New uploads on Wednesdays.
Best regards,
Mike Pitt
Founder, Marketing Fundamentals Ltd
Subscribe to our Youtube channel
Follow us on LinkedIn
Follow Mike on Pinterest
This is video number 269 and blog post number 509.
Follow us on Social Media