How to Drive Traffic from Pinterest to Your Services Business Website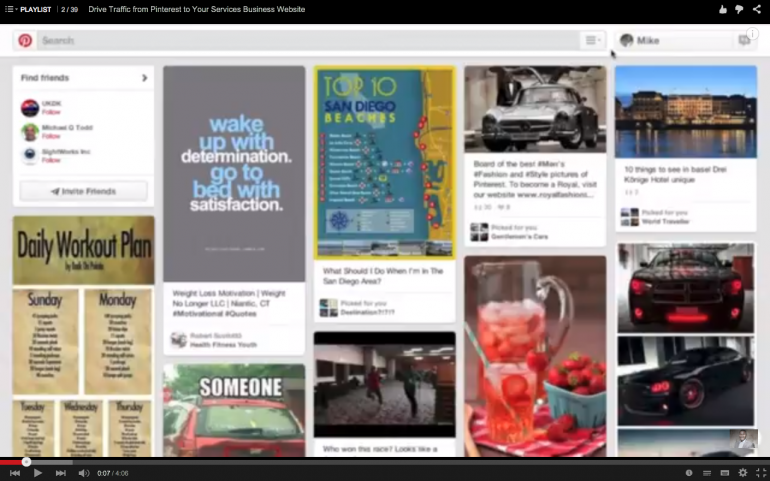 This post may contain affiliate links please read our disclosure for more info.
How to Drive Traffic from Pinterest to Your Services Business Website by Mike Pitt. Mike Pitt, Founder of Marketing Fundamentals Ltd discusses one effective technique that he has used to drive traffic from Pinterest to the this website. It is a straightforward technique that you can replicate for your Services business and he invites you to do so and then let him know how what happened from a website traffic perspective. When you have tried the technique please leave your feedback in the comments below.
Drive Traffic From Pinterest
" Today I want to talk to you about driving traffic from Pinterest to your services business website. There was a feeling or a belief when Pinterest was launched in March 2010 that it would be great for visual industries and e-commerce. The common consensus was that  if you were a photographer or an interior designer it would help you to showcase your portfolio, highlight locations and attract leads and customers and generally it was believed that it would not be suitable for services businesses. However, using Pinterest also works for services businesses and I will show you how.
I have kept my Pinterest account as a personal account and I am aware that I could convert it to a business account. At the time of recording I have over 800 followers acquired without the use of any Pinterest management tools and I have 23 boards. The boards reflect my personality and I started to be active on Pinterest long before I had any plan to commercialise my engagement. How do you  Pinterest as a services business? Here is a one of my boards called Marketing Fundamentals Ltd. You can see that the images are taken from blog posts on the company website. The only link underneath each pin is a link to the corresponding blog post. If people are interested in the image they will click on the link and read the blog post. This is a very simple and effective technique and you can see the results in your Google Analytics report which will show Pinterest as one of the drivers of traffic to your website.  Start using this technique and and let us know how you are getting on in the comments section below."
2018 Update
If you have liked this post you will like, Traffic Tips: The Power of Pinterest
B2B Content Marketing Agency London
Marketing Fundamentals Ltd is a B2B Content Marketing Agency in London that creates Content and manages Social Media for Professional Services firms. We hope you find this information useful.
If you would like our help creating and executing a Content Marketing Plan for your business or organisation give us a call on +44 (0) 845 2264 247. You can also email us via mail@marketingfundamentals.com
On our YouTube channel you will find marketing advice, business advice & inspiration. Subscribe if you work in Marketing for Professional Services or are a business owner or solo-preneur trying to grow your business. New uploads on Wednesdays.
Best regards,
Mike Pitt
Founder, Marketing Fundamentals Ltd
Follow Mike on Pinterest
Subscribe to our Youtube channel
Follow us on LinkedIn
Online courses:
How to TurboCharge Your Business with a Blog
Meet Edgar Social Media Management
TurboCharge Your Twitter Presence
Quora For Business
Follow Mike on Twitter
Follow us on Social Media