10 Go-To Tools for B2B Content Marketers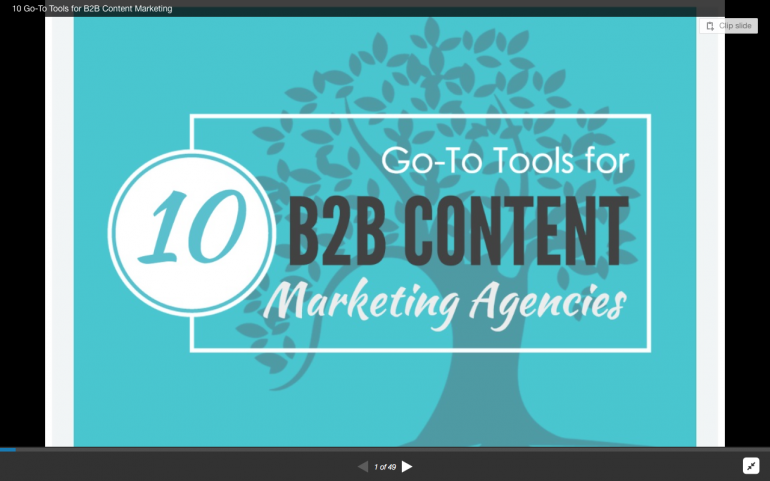 Image: Marketing Fundamentals Ltd This is blog post 317. Click on the title below to open the presentation in Slideshare.
This is the text from the presentation.
Every business can benefit from the strategic use of content marketing tools.
But with so many on the market, it can be hard knowing which are right for your business.
But don't worry…
We've done the hard work for you.
We've compiled a list of ten go-to tools for B2B businesses that produce results,
and will help your business grow.
Sceptical?
Don't be.
(We know they work because they are tried and tested by our team.)
#1. Canva
Canva is a free design tool aimed at beginners and professionals alike.
We recommend it for: Creating powerful original imagery for your blog and social media. (It is the best option short of taking a photograph yourself.)
The best part?
Canva's easy-to-use interface and array of templates (pre-sized for different social media platforms) mean you could have your first design published within the hour.
#2. Piktochart
We recommend it for: Creating beautiful, professional-quality infographics for your site and blog.
It can also be used to create visually engaging presentations. Like this one.
#3. Qzzr
Qzzr is a free online quiz making tool used by both amateurs and professionals.
We recommend it for: Creating engaging quizzes that can be quickly embedded on your site and shared on social media.
The best part?
Capturing customer (and prospect) data provides insight into their wants and needs. You can use this data to create new content and ultimately generate more leads.
#4. Slideshare
SlideShare is a slide hosting service used primarily by business professionals.
(Did you know? It's owned by LinkedIn.)
We recommend it for: Creating visually engaging presentations that repurpose existing long-form written content.
Why repurpose your content for yet another platform? I hear you ask.
SlideShare currently attracts an estimated 58 million unique users each month.
(That's a lot of potential for fresh new leads).
#5. Periscope
Periscope is a live video streaming app for iOS and Android.
(Did you know? It's owned by Twitter.)
We recommend it for: Live-streaming your industry exhibitions or networking events and sharing footage with prospects or existing customers who aren't able to attend.
The best part?
Its ease of use. Any iOS or Android user can become a content creator. This means that news and events can be easily shared with your Twitter following.
#6. Crowdbooster
Crowdbooster is a social media management and analytics tool.
We recommend it for: Scheduling tweets, determining your most influential followers to engage with, and monitoring the effectiveness of your tweets.
The best part?
Crowdbooster provides suggestions on when to post content based on when your followers and friends are most active; leading to more engagement and leads for your business.
#7. Stumbleupon
StumbleUpon is a content discover site that allows users to "stumble upon" websites relating to their interests.
We recommend it for: Promoting your business website to a targeted audience. StumbleUpon can be an effective referral source and help drive traffic to your site.
*Recent reports have suggested that StumbleUpon is suffering due to competition from Flipboard and the major social media channels (Twitter, Facebook and YouTube), but we believe it still remains a very useful tool.
#8. Unfollowers
Unfollowers is a free Twitter and Instagram management app.
We recommend it for:Tracking and unfollowing users who have unfollowed you.
(Why waste time engaging with users who aren't interested in your content?)
#9. Flipboard
Flipboard is a social newsreading app for web, iOS and Android.
We recommend it for: Use as a referral source. Create "magazines" with content related to your niche and users will be able to discover and share your content with other users.
(This means greater brand awareness and more site traffic. It's a no brainer, really.)
#10. Pixabay
Pixabay is a stock photo website with over 440 000 free high quality images.
We recommend it for: Creating blog post images when you're in a pinch for time.
(Don't worry. This happens to the best of us.)
The best part?
All images are free – even for commercial use. Their helpful 'browse by category' feature is pretty great too.
Each of these tools can help you execute your content marketing strategy more effectively.
Ultimately, generating leads and driving sales for your business to help it grow.
And that's exactly what we do.
—
Thanks for viewing the Slideshare presentation or reading the text above.
Best regards,
Mike Pitt
To set up a meeting with me, e-mail me or give us a call on 0044 (0) 845 2264 247.
Subscribe to our Youtube channel
Follow us on LinkedIn
Buy our book!
Follow Mike on Twitter




This is blog post number 317.
Follow us on Social Media