3 Powerful B2B Content Marketing Case Studies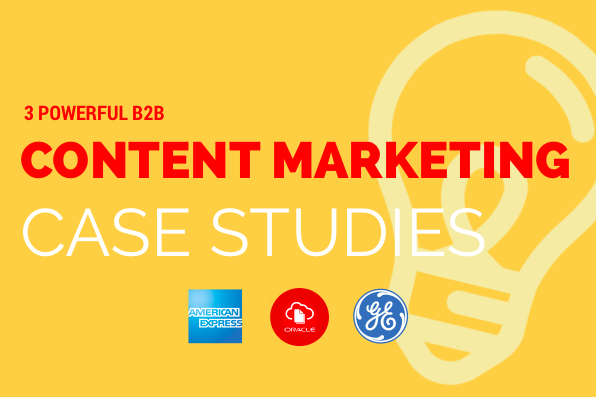 Image Credit: Marketing Fundamentals Ltd
This post may contain affiliate links please read our disclosure for more info.
Learning from what others are doing is a sound business strategy. To inspire you to refine your business's  content marketing strategy, we've compiled three powerful B2B content marketing case studies which shed light on successful content tips. To ensure our own impartiality for this post we have not chosen any of our clients.
B2B Content Marketing Case Studies
Oracle Using SlideShare
Oracle, the world's leading supplier of software for information management, puts SlideShare at the heart of its content marketing strategy. SlideShare is a slide hosting service used primarily by business professionals. The company was founded in 2006 and, after years of steady growth, was purchased by LinkedIn in 2012 for $118 million USD. You can read more about SlideShare and how it can help your business generate leads here.
Oracle makes effective use of this uniquely informative content driven platform by regularly sharing presentations, infographics, reports and videos for prospects to view, comment on, and share. Much of this content is repurposed from existing corporate PowerPoint presentations.
Content ranges from entire presentations that have been repurposed from PowerPoint to infographics which make use of existing graphs and charts. Amongst Oracle's successful content is presentations like "Oracle Cloud: Strategy," which outlines the product's USPs. Far from being flashy; this simple and straightforward presentation has been viewed over 1200 times.
Oracle has published over 160 SlideShare presentations and over 100 videos to date. Those pieces of content that achieve high visibility find themselves featured in SlideShare's "Technology" stream, which shares the company's content with an even broader audience. With an estimated 58 million unique visitors to the site each month, SlideShare is a great platform for B2B businesses to demonstrate their expertise in their niche and increase their brand visibility with a primarily professional audience.
Lesson: Oracle's strategy is effective because their content provides relevant information to B2B researchers about their products and services, which helps sway the buyer's purchasing decisions and ultimately generate sales.
GE Using Pinterest
GE uses Pinterest, the social media platform which allows users to 'pin' visual images to virtual pinboards, to great effect. It does so by regularly sharing content with its followers relating to its corporate values, sources of inspiration, and history, among others.
These boards help differentiate GE from its competitors by revealing aspects of the company's personality and giving it a desirable 'human' quality.  Boards like "Hey Girl," which riff off of a popular feminist meme that originated on Tumblr, collate images of Thomas Edison with humorous scientific puns or pick-up lines. While lighthearted in nature, this board effectively reenforces GE's commitment to women's place within the science and tech industries by creating content specifically marketed at young female scientists.
GE's content marketing strategy  on Pinterest is particularly powerful when one considers the platform's active millennial user base. According to recent findings from Google, nearly half of all B2B researchers influencing deals of over $10, 000 USD or more are now millennials. By including light-hearted content into their content rota like the "Hey Girl" images, GE are able to cultivate positive brand associations amongst key influencers.
Lesson: Revealing a sense of your company's personality and values through your content, like GE does so successfully, will help ensure that your target audience can meaningfully connect with your brand. This ultimately increases sales because it means that buyers will be helped further down your sales funnel by engaging with this content, rendering them more likely to choose your business over your competitors when they are next in the market for your product or services.
Therefore, a diversity of content is key. To outperform your competitors, it is not sufficient to relay messages that relate only to your core brand message. Although GE uses Pinterest as its primary platform to engage with influencers, not all B2B businesses need to be using this platform. This strategy can be implemented using more conventional platforms, such as Twitter and LinkedIn, if done effectively. If you want to read more about whether Pinterest is right for your business, you can read our relevant article here.
American Express and Open Forum
To extend its reach into the small business market, American Express launched Open Forum (OPEN) back in 2007. OPEN is an online initiative designed to assist small business owners grow their business by providing both insights and resources online. Useful blog content is created by a mix of in-house writing staff, users, and publishers like Mashable or Inc. Magazine; making it a hybrid of guest blogging and in-house editorial operation. Content covers a wide array of topics, including advice for small businesses on leadership, marketing, finances, and several other business issues. Open Forum attracts over 16 million unique users per month.
American Express' success with this content marketing initiative has enabled it to expand into an untapped market and ultimately grow its customer base. Mary Ann Fitzmaurice Reilly, SVP of Partnerships & Business Development for American Express OPEN, said, "We already have a large part of the pie so our biggest opportunity is with small business growth—if they grow, we grow."
Lesson: Open Forum demonstrates how easy content marketing can be for a B2B company when it provides value-added content, rather than merely pushing product. The communal aspect of the initiative incentivises its users to return to the website and be of assistance to their peers. This year, there were one-quarter of a million link back referrals on the site. This staggering number demonstrates that content marketing strategies are at their best when they invite comment and feedback from your target audience.
Luckily, you don't need to be American Express to create this sense of community amongst your prospects. Inviting your audience to engage with your business by asking for feedback and/or suggestions at the end of each blog post is a great and easy way to begin executing this strategy.
B2B Content Marketing Agency London
Marketing Fundamentals Ltd is a B2B Content Marketing Agency in London that creates Content and manages Social Media for Professional Services firms. We hope you find this information useful.
If you would like our help creating and executing a Content Marketing Plan for your business or organisation give us a call on +44 (0) 845 2264 247. You can also email us via mail@marketingfundamentals.com
On our YouTube channel you will find marketing advice, business advice & inspiration. Subscribe if you work in Marketing for Professional Services or are a business owner or solo-preneur trying to grow your business. New uploads on Wednesdays.
Best regards,
Karla McDougall
Digital Marketing Intern
Marketing Fundamentals Ltd
Follow Mike on Pinterest
Subscribe to our Youtube channel
Follow us on LinkedIn
Online courses:
How to TurboCharge Your Business with a Blog
Meet Edgar Social Media Management
TurboCharge Your Twitter Presence
Quora For Business
Follow Mike on Twitter
This is blog post post number 299.
Follow us on Social Media