The Rise of the Social Space in Offices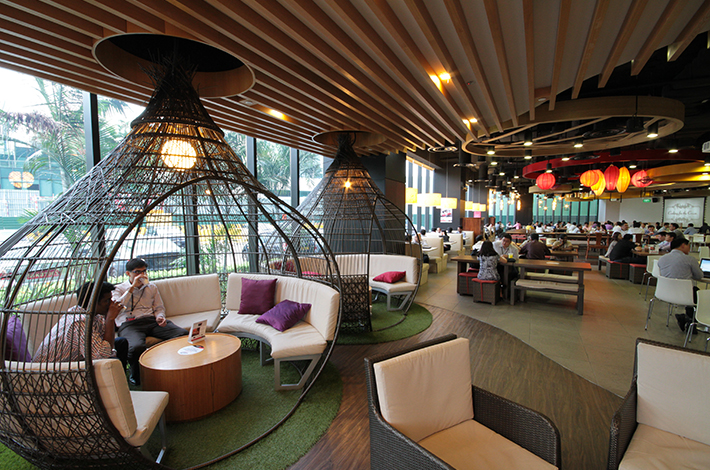 Image credit: worksight.jp
This post may contain affiliate links please read our disclosure for more info.
Social Space in Offices
Offices are no longer tiny, boxy little cubicles where workers toil in isolation – in the last decade, the so-called social space has risen in importance to become possibly the most important part of the workplace.
Social spaces include features like breakout spaces, informal meeting rooms and even big kitchens where people can get up during meetings and grab a coffee for everyone. These rooms or areas have soft lighting, even softer furniture and people bring in their mobile devices to them rather than sitting stiffly at a desktop or round a table.
These spaces aren't all about the meetings, either, staff members can relax, snack, play a game or even take a quick nap. The relaxing nature of these social – or third – spaces makes the workers in that office space in Surbiton feel comfortable enough to brainstorm and bring in new ideas.
What is the Third Space?
The third space has, up until recently, been the space between work and home, like a coffee shop, where someone could hold a meeting with a colleague or get a bit of work done. Generally the third space has been outside both home and office, but just as work has entered home, home comforts are coming to the office, in the shape of breakout spaces and play areas.
Companies and office space providers are investing in these new areas – time was when purchase orders for panelled cubicles and individual workstations were huge and frequent. Now the money's going to these social spaces, with kitchens growing in size; third spaces are no longer a perk or a luxury, they're seen as essential, especially as they facilitate interaction between departments as well as junior and senior management.
How Office Design is Changing
As the needs of different industries change, so do the spaces they occupy.
The rise of IT, especially mobile devices, has led to a downsizing of many offices – in previous decades a lawyer would need his or her own secretary, but now three or four lawyers may share the same assistant. Similarly, libraries and archives are being digitised or stored on the cloud, freeing up space that could serve as a comfortable kitchen.
Home From Home
Increasingly, office fit-outs look more like household interior design, with plush carpets, huge sofas and cosy coffee nooks with adjustable lighting. These spaces are perfect for quiet, concentrated work or for a quick meeting, or, indeed, for a coffee and a chat.
The best thing about these spaces is their flexibility – they are all things to all people. They have to be multi-purpose and many different people use them for many different functions, with no one group or person having ownership of them. Snacking, training, thinking, resting, creating, even a game of table football – it all happens there.
The Techy Stuff
Of course these third spaces need all the latest technology and facilities, with many refurbs and new builds focusing on data points, charging stations, wi-fi and ubiquitous audio-visual equipment. Why spoil the flow of a meeting by moving into a stuffy meeting room because the projector is there? There's loads of wireless presentation systems that can work anywhere and everywhere.
A Degree of Separation
Third spaces also solve many of the problems associated with open plan offices – a lot of space has been wasted in the past in efforts to separate the geeky IT crew from the chatty sales teams. If an office's social space involves comfortable, well-upholstered booths, then it's a natural barrier that actually earns its keep.
B2B Content Marketing Agency London
Marketing Fundamentals Ltd is a B2B Content Marketing Agency in London that creates Content and manages Social Media for Professional Services firms. We hope you find this information useful.
If you would like our help creating and executing a Content Marketing Plan for your business or organisation give us a call on +44 (0) 845 2264 247. You can also email us via mail@marketingfundamentals.com
On our YouTube channel you will find marketing advice, business advice & inspiration. Subscribe if you work in Marketing for Professional Services or are a business owner or solo-preneur trying to grow your business. New uploads on Wednesdays.
Best wishes,
Marketing Fundamentals Team
Subscribe to our Youtube channel
Follow us on LinkedIn
Online courses:
How to TurboCharge Your Business with a Blog
Meet Edgar Social Media Management
TurboCharge Your Twitter Presence
Quora For Business
This is blog post post number 364.
Follow us on Social Media