Are you still looking for the magic formula for your business?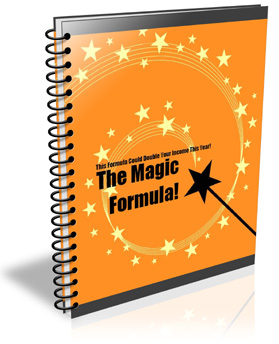 If you are anything like me you will receive many emails, tweets or web links sent from gurus from the online and offline world. Many of these successful people have magic formulas and impressive credentials with established fortunes to back up their claims. In their offer they usually detail their path to success and how you can do what they did to achieve success. If you spend any time reading or listening to their marketing materials you will come away enthused.
To be inspired is a wonderful thing – to follow up with actions is even better but the true lesson is that you must find your own magic formula for your business rather than blindly following someone else's. Here are three tips to help you find your own magic formula.
What makes a business successful?- Magic Formula for your Business
1. Range – Look at your range of products or services – where is the biggest profit potential for an activity that you like doing? Become more focused on delivering more of this product or service. Stop doing the activities that generate very little profit.
2. Listening – How much are you listening to your customers? They should truly be at the heart of everything that you do. Your list of products or services list should be flexible and changeable similar to a restaurant menu. You are building a customer centric business – create feedback opportunities and customer surveys.
3. Scaling – Do you have a strategy for scaling your business? If you simply generate more and more work for your business without a robust strategy for scaling you are on the path to being overwhelmed and exhausted. Identify what needs to happen for your business to grow successfully – pinpoint the people and technology that you will need and take steps to find them. We often ask people how they plan to grow and many business owners do not have a robust strategy.
If you are attempting to accelerate growth for your business or enterprise we would be happy help you.
Are you keen to get know what makes your business successful? If so, feel free to give us a call on +44 (0) 845 2264 247 or drop us an email via mail@marketingfundamentals.com – We look forward to hearing from you.
We hope you have found this information useful.We are a leading Content Marketing agency in London.
Best regards,
Marketing Fundamentals Team
Follow us on Social Media