What Trade Show Marketing Will Look Like in 2022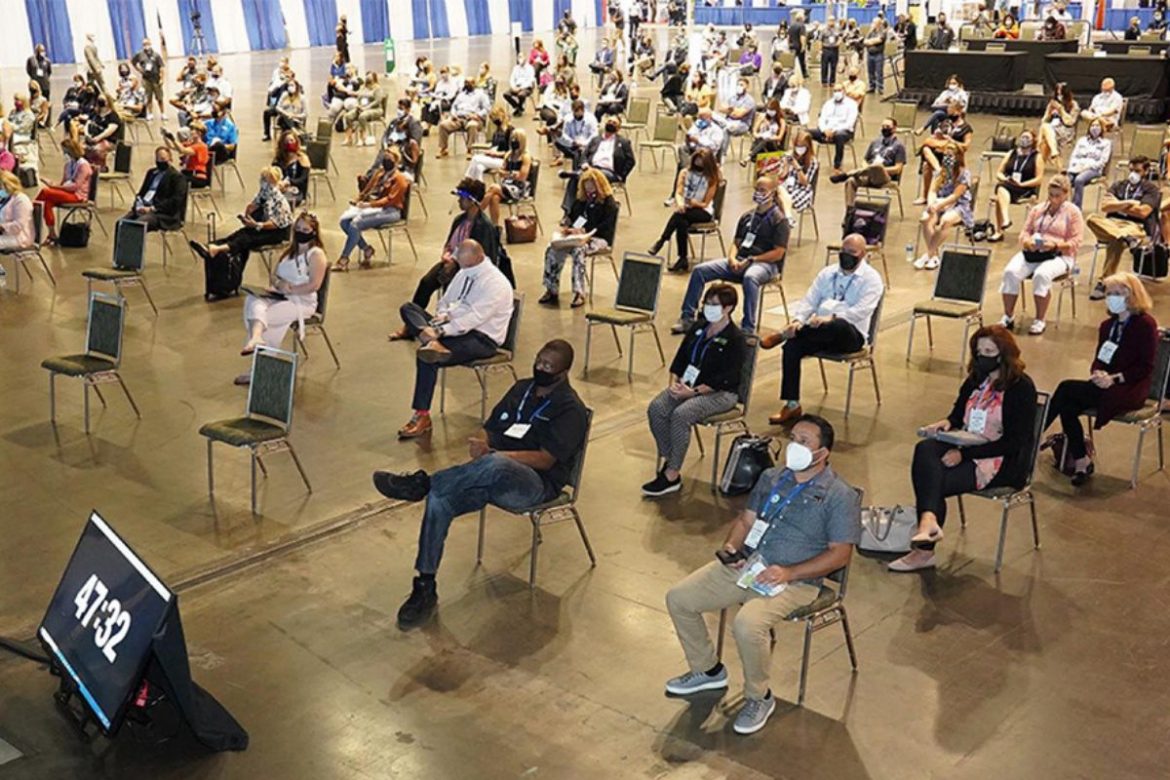 The COVID-19 pandemic threw the tradeshow industry into disarray. The booth space and presence many businesses relied on to make connections with new leads vanished overnight. Much of the world has changed, and you might wonder what tradeshow marketing will look like as we head into 2022 in under a year.
Statista predicts the global trade show market will reach $40 billion by 2023. At the moment, many planned events are virtual connections. While there are advantages to a digital gathering, there are also limitations. It's hard to make a connection with someone you don't know when you aren't face to face.
If your business utilizes conferences to increase brand awareness, start planning now for a return to in-person events. Things will return to old patterns, but expect to see some changes in trade show marketing as well.
How COVID-19 Changed the Trade Show Industry
In early 2020, companies canceled significant exhibitions like Google I/O and Mobile World Congress, leading the way for smaller events to follow suit. Some people expect a vaccinated world will return to what it was in 2019.
However, people have adapted to living a different lifestyle in the last year. They see the cost savings and convenience of Zoom calls and online meetings. Companies may be reluctant to pay for trade show space, travel for employees to man a booth, and many other factors involved in a physical show.
While the traditional convention won't completely go away, expect to see concessions for those who prefer online conferences. Some of the things you should consider about tradeshow marketing in 2022 include:
1. Focus on the Experience
People will be much choosier about how they spend their time. One thing the pandemic taught us was that time is precious. More people are focusing on family and friends than ever before. They won't want to waste their time visiting a booth that doesn't 100% meet their needs.
Customer experience (CX) becomes even more vital to a successful presence. Look for ways to create a sleek, eye-catching space. Make sure you match up vinyl pieces 100% of the time with matched pole magnets. You'll also save time on setup — even your workers won't want to waste precious moments.
Pay attention to everything from your headlines to the freebies you give away. Every element of your booth must engage the user and create a stellar CX.
2. Attend More Shows
People are much more aware of large crowds and social distancing. While the world works to get the virus's emerging strains under control, expect events to remain small. Registration and booth space may be limited.
You might need to attend two shows with fewer attendees to reach the same number of people you could in the past. Save money by planning events back-to-back in nearby cities. Cut down on travel and expenses by combining flights and efforts.
3. Roll With the Times
Be prepared for massive changes when you do return to tradeshows. The American Hotel and Lodging Association's state of the industry report predicts as many as 500,000 fewer jobs throughout 2022.
People may be frightened and reluctant to return to in-person events. How deep the impact goes depends on how quickly the world distributes the vaccines and how many people get the vaccine.
Know when cancellations can occur. Be prepared to pull out of some trade shows if registrations are low.
4. Seek Out Hybrid Events
Many experts predict hybrid events will be the wave of the future. They can draw more attendees than in-person events. People who otherwise would never go to a particular conference will jump on virtual options and participate.
If your goal with tradeshow marketing is to reach as many people as possible, a hybrid event allows you to stretch your influence to anywhere in the world.
5. Participate in Social Media Marketing
The Digital 2021: Global Overview Report shows a 13% increase in social media users in the past 12 months. At the beginning of January 2021, there were 4.2 billion people active on various platforms. The number will only grow in the coming year.
If you aren't promoting your presence at trade shows on social, you need to figure out an omnichannel approach. How can you get conference attendees to visit your social media pages? How can you drive your social media followers to information about your booth?
6. Look for Value
Some trade shows attempted to go virtual, but exhibitors saw few advantages to participating. They still paid a fee and had the work of setting up a virtual exhibit. However, they didn't get the same traction as an in-person event.
If you plan to participate in hybrid trade show marketing, look for ones offering unique opportunities. Perhaps you can send printed materials to registrants matching your target audience profile.
If your tradeshow of choice does not offer the options you need, prepare to find new events. Some groups have met online for longer than others. They've perfected online promotions and know how to meet the needs of both attendees and exhibitors.
7. Be Flexible
If 2020 taught marketers anything, it was to be open to new possibilities. As things open back up and trade shows resume, expect the world to look a little different than it did in 2019. Attendees may still wear masks, making communication more difficult. Passing out samples and goods will require separate packaging and attention to detail.
Go into your next event prepared for strict guidelines. At the same time, people still want an emotional connection. They want you to engage them and offer an experience. Look for ways to reach out even in a world where you have to remain at a distance.
This post was written by Eleanor Hecks for the Marketing Fundamentals Team. Eleanor Hecks is editor-in-chief at Designerly Magazine. She was the creative director at a digital marketing agency before becoming a full-time freelance designer. Eleanor lives in Philly with her husband and pup, Bear.
Image credit – Christie's Photographic Solutions
B2B Content Marketing Agency London
Marketing Fundamentals Ltd is a B2B Content Marketing Agency in London that creates Content and manages Social Media for Professional Services firms. We hope you find this information useful.
If you would like our help creating and executing a Content Marketing Plan for your business or organisation, email us via mail@marketingfundamentals.com
On our YouTube channel you will find marketing advice, business advice & inspiration. Subscribe if you work in Marketing for Professional Services or are a business owner or solo-preneur trying to grow your business. New uploads on Tuesdays and Fridays.
Best regards,
Marketing Fundamentals Team
Subscribe to our Youtube channel
Follow us on LinkedIn
This is blog post number 598
Image credit:  Christie's Photographic Solutions
Follow us on Social Media