How can Content help with Professional Services Marketing?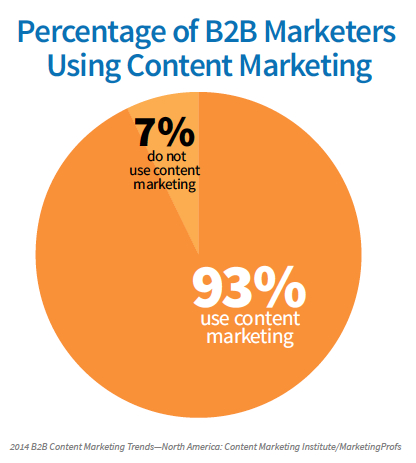 Marketing in the day and age of the Internet has become a more dynamic and interactive process than in the days of old. The Internet allows businesses to reach out to wider target audiences and customers and people interested in the goods and services sold by a firm can learn about them and the tact employed by the firm in a much more holistic fashion.
For professional services firms to reach a greater level of success, they must know how to promote themselves with content marketing and other modern techniques. Recently published 2014 annual content marketing report- North America, claim that 93% of B2B marketers are using content marketing.
Content marketing is a vital cog in fostering virtual dialogues and conversations between the firm and its prospective and existing customers and clients. Content marketing is a thoughtful process which achieves its goals by posting educative content which is essential for greater understanding of the firm and its products. Content marketing also helps create various new leads and also strengthen existing ones in order to build brand loyalty.
Professional Services marketing using content.
Firms achieve three primary goals by engaging in content marketing:
Showcase sensitivity regarding topics of interests for clients and target audiences.
Interact with the audience and hold their attention.
Foster loyalty.
A firm's interaction with its clients and customers is dependent upon the relevance of its content and the frequency with which such content is updated. Content marketing helps tune customers and prospects into the firm's own way of thinking and if pursued correctly, it may lead to prospects choosing and hiring the firm without any overt solicitation from the firm. The concept underlying all of this is that if a firm manages to build an interactive and loyal audience which awaits updated content and discusses the information presented in the content, then that firm will have a much easier time closing sales.
Content marketing works best when firms offer a lot of information for free. This information could be in the form of blog posts and articles or regularly sent newsletters and discussions on social media platforms. If the prospect desires to read more or find out more detailed information, then a fair trade of information should be done. This fair trade implies that the viewer trades his name and his email address for more detailed information. The viewer gets his information and so does the firm.
The Different Forms of Content
If you're wondering how to do professional services marketing, there are various different forms of content which you can create and utilize to your firm's advantage.
Most firms are content with using blogging as their content marketing vehicle. Blogging is very simple and is a productive platform for firms to start their content marketing with. Blogs are informal compared to magazine articles and hence can be written and published quickly. Commenting should be allowed and encouraged in order to help readers interact and engage in conversation with the firm.
Blogs are only a singular aspect of content marketing. There are a ton of other avenues which you could use to promote your business. Let us take a look at a few useful marketing tools:
Webinars – Webinars are great forums for showcasing and highlighting your firm's specialty. You can exploit such a forum to inform your audience of your research and your plans and if there are interested leads, they can be pursued. Webinars should be archived and these should be readily accessible so that fresh visitors may view them at any point they want.
Articles – Articles are the most traditional form of content marketing and as such have now gained a reputation for being drab and boring. Ensure that your articles are easy to go through and have a sense of humor about them.
Facebook, Twitter, LinkedIn, etc. – Social media is now a hotbed for marketing. Firms have the opportunity to reach out to thousands of individuals with their information.
E-Newsletters & E-Books – Think about making your research available, for free. All you can ask in return would be their name and e-mail address in order to help you build your own list. Making your research available will help the reader gain in-depth information regarding your areas of expertise and if your research is sound, it will go a long in creating loyalty and trust between the reader and the firm.
Content marketing is an integral part of how professional services marketing plan. The digital age is one where information can be shared instantly and responses to such information can be shared instantly as well. This means that there can healthy virtual conversations between firms and their prospective as well as existing customers which help boost brand image and value.
We hope this information has been useful to you. If you'd like to talk to us about creating effective Content Marketing for your business give us a call on +448452264247 or email us at mail@marketingfundamentals.com
Best regards,
Marketing Fundamentals Team
Follow us on Social Media