Did you Create Enough Content Last Year?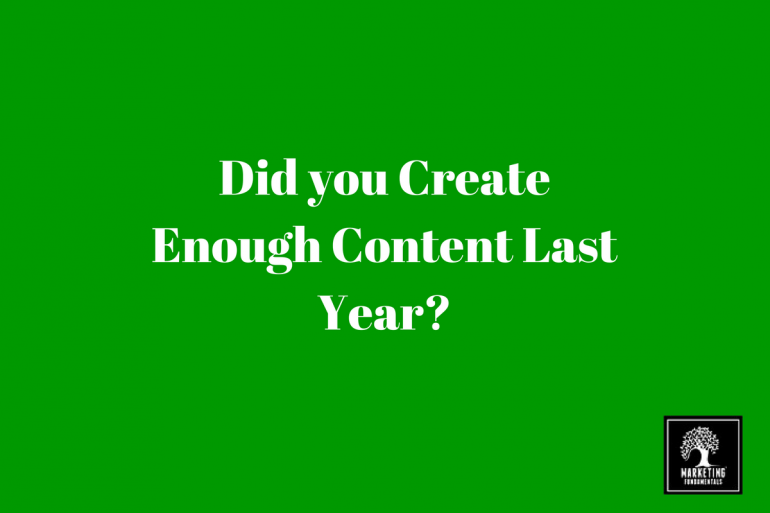 Many business people have the best intentions at this time of year. Let's start with a very quick review, did you create enough content last year? If you have a company blog page you should have written at least one blog per week last year. That would mean 52 in total. The same can be said for your company YouTube channel, did you create 52 new videos on your channel last year? Achieving these milestones would set you apart from most of your competitors because most B2B companies fail to achieve them.
Did you Create Enough Content Last Year?
After reviewing whether you achieved these content creation milestones, the next step if you failed is to analyse why you didn't achieve them. What were the blockages? Lack of expertise around the discipline of content marketing? Were you lacking a Content Marketing champion to pull everything together? Do your marketing staff already have too much on their plate and no time for Content Marketing?
If you did not create enough content, what are you going to do to improve? We are already working with businesses that have found themselves in the same position as you. We act as a member of their team and help them to achieve their content marketing milestones by creating content and managing social media channels for them, we would be happy to help you too. If you have enjoyed this post you will also like, How do you Publish Content Consistently? 4 Tips.
B2B Content Marketing Agency London
Marketing Fundamentals Ltd is a B2B Content Marketing Agency in London that creates Content and manages Social Media for Professional Services firms.
If you would like our help creating and executing a Content Marketing Plan for your business or organisation give us a call on +44 (0) 845 2264 247. You can also email us via mail@marketingfundamentals.com
On our YouTube channel you will find marketing advice, business advice & inspiration. Subscribe if you work in Marketing for Professional Services or are a business owner or solo-preneur trying to grow your business. New uploads on Wednesdays.
Best wishes,
Mike Pitt
Founder of Marketing Fundamentals Ltd
Subscribe to our Youtube channel
Follow us on LinkedIn
Online courses:
How to TurboCharge Your Business with a Blog
Meet Edgar Social Media Management
TurboCharge Your Twitter Presence
Quora For Business
This is blog post post number 439.
Follow us on Social Media