Entrepreneurs – Top 10 marketing apps for entrepreneurs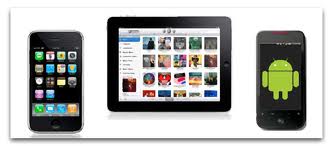 According to the Office of National Statistics (ONS)*almost half (45%) of UK internet users are going online via mobile phone data connections; this is comparable with a figure of 41%** for the US and a staggering 66.2%*** in China.
More of you are now more likely to be conducting your business on the go making quality apps essential for you to be effective at managing and marketing your business. We thought this was reason enough to list below our Top 10 marketing apps for entrepreneurs. This is the first of two posts dedicated to apps.
1. The SME Marketing app – is the marketing productivity app for small businesses. Key marketing questions are answered within the app plus there are effective marketing strategies, 'actions', a 'to do' list generator and brand building tips. Available on iPhone and Android.
2. WordPress App – update your WordPress website on the go, respond to blog comments and publish new posts. – Available now on iPhone, Android, & Blackberry
3.Analytics – Access your Google Analytics account on the move. Keep track of your web traffic and visitor trends as easily as if you were logging into a desktop -recommended for itinerant entrepreneurs. Available on iPhone.
4. Odesk app – Manage your remote team via the app. Odesk is the marketplace for online workteams – with the best business model for both employers and contractors. Available on iPhone.
5. YouTube – By now you should be using YouTube to promote your business. This app allows you to manage your YouTube account and upload fresh content from your smartphone. Available on Android and iPhone.
6. LinkedIn – Now with updated news functionality a must for keeping up to date with your network while on the move. Available on iPhone, Android and Blackberry.
7. Hootsuite for Twitter – Enables you to manage multiple Twitter, Facebook, and other social media accounts from one dashboard – includes automated content posting features. Available on iPhone,iPad, Android and Blackberry.
8. Keynote – As an entrepreneur you will need to make presentations. The iWork Keynote app is ideal for on-the-go presentation development. You can also import Microsoft Powerpoint slide decks with easily. Available on iPhone, iPad
9. StoryPagesHD. StoryPages, a story-boarding app, is a great app for drawing, diagraming, and working through conceptual ideas. It also provides integrated templates and the ability to use any photo or image as a sketch backdrop for more precise outlining. Available on iPhone & iPad
10. Salesforce mobile – Salesforce Mobile for iPhone gives users the ability to carry all of their customer data with them in the field and if you are managing sales personnel this is excellent for you too. Available On iPhone, Blackberry and Windows Mobile.
Are you an entrepreneur who has been considering developing an app for your business? If so give us a call on 0845 2264247 or drop us an email via mail@marketingfundamentals.com because we would be happy to help you.
We hope you find this information useful.
Kind regards,
Marketing Fundamentals Team
Sources:
*Office of National Statistics – Internet Access Quarterly Update – 2011 Q2 – Published 31.08.11
** eMarketer.com estimates – Published 24.08.11 – http://www.emarketer.com/Article.aspx?R=1008553
*** Chinainternetwatch.com – Published August 2011 http://www.chinainternetwatch.com/whitepaper/china-internet-statistics/
Follow us on Social Media