Ello 2018 Update: What has Happened?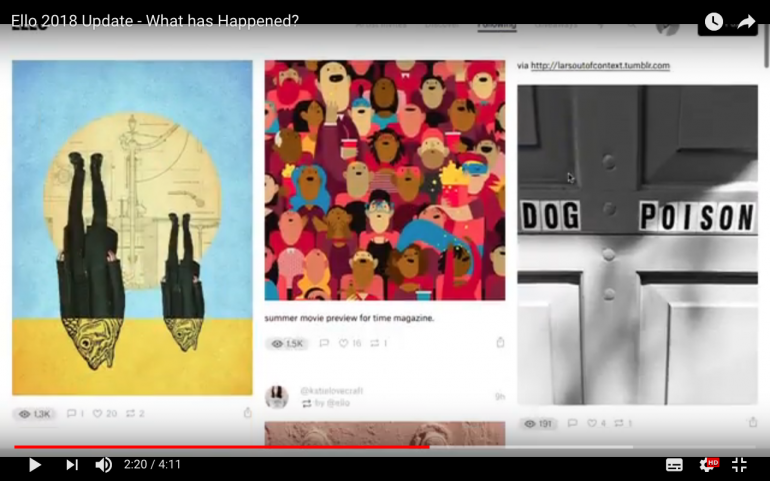 Image Credit: Marketing Fundamentals Ltd
This post may contain affiliate links please read our disclosure for more info.
This video is called, Ello 2018 Update: What has Happened? By Mike Pitt. This is video number 234 and blog post number 458. Subscribe to the channel here. Mike Pitt is the Founder of Marketing Fundamentals Ltd, which is a B2B Content Marketing Agency in London.
In this video, Mike Pitt takes another look at the Ello Social Network which can be found at https://ello.co/  This is an Ello 2018 update, his last video on Ello was uploaded in Feb 2015.
Click here to watch the earlier video from 2015  
This video will be of interest to business owners, B2B marketing managers and others who use Content Marketing and Social Media to promote their B2B business or organisation.
Ello 2018 Update
In 2015, when I last looked at Ello, it was positioned as an ad free Social Network. At the time, the anti-commercial stance was a key point of difference compared to the major Social Media platforms including Twitter, Facebook and LinkedIn . Fast forward to 2018 and Ello has been re-positioned as an artistic community as I explain in the video. 
Are you an artist currently active on Ello ? If so, what do you think of it? Let me know in the comments section below.
If you like this post you will also like the following:
 Traffic Tips: Are you Using StumbleUpon?
 Traffic Tips: The Power of Pinterest 
 Content Hacks: Learning From Your Most Popular Post.
B2B Content Marketing Agency London
Marketing Fundamentals Ltd is a B2B Content Marketing Agency in London that creates Content and manages Social Media for Professional Services firms. We hope you find this information useful.
If you would like our help creating and executing a Content Marketing Plan for your business or organisation give us a call on +44 (0) 845 2264 247. You can also email us via mail@marketingfundamentals.com
On our YouTube channel you will find marketing advice, business advice & inspiration. Subscribe if you work in Marketing for Professional Services or are a business owner or solo-preneur trying to grow your business. New uploads on Wednesdays.
Best regards,
Mike Pitt
Founder, Marketing Fundamentals Ltd
Follow Mike on Pinterest
Subscribe to our Youtube channel
Follow us on LinkedIn
Online courses:
How to TurboCharge Your Business with a Blog
Meet Edgar Social Media Management
TurboCharge Your Twitter Presence
Quora For Business
Follow Mike on Twitter
This is blog post post number 458.
Follow us on Social Media