How Long Does Content Marketing Take to Work?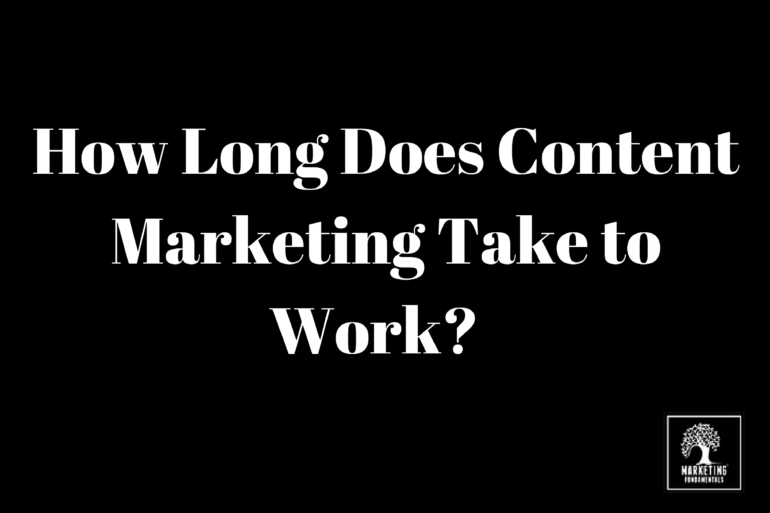 Hello everyone. We live in an impatient world where immediate gratification is all around us. Don't want to watch the pre roll ad that is appearing on You Tube before your selected video? You can skip that in 5 seconds. That must-have New Business Guide? You can download that now. It is in this environment that I am often asked," How long does Content Marketing take to work?" It's a good question and before I give an answer I want to restate the primary objective of Content Marketing for your Professional Services Firm or B2B Business. That is to generate a rapport and relationship with your leads and prospects and then to create enquiries and sales. This is achieved is by delivering value added Content on a consistent basis. Value added Content helps your potential customers or clients solve problems they are facing now which builds trust in your company.
Building Up Trust
Building trust in business as in life cannot be done overnight. Unfortunately many of us have encountered people who have not delivered all they promised. For more information on How Do You Build Trust in Your Company? Click here.
Content Marketing: The Good News
The good news is that Content Marketing will build up trust and generate new leads and customers in twelve months. That means 12 months of weekly blog posts and daily Social Media Marketing activity will deliver new leads and enquiries. You should commit to Content Marketing for at least 12 months to maximise your return on investment. In the business sectors that we work in on behalf of our clients, the return on investment can be very healthy with new customer contracts worth millions of pounds in some cases. Of course this will depend on the sector or niche that you are in. There is a great opportunity for you to reap the rewards of a successful Content Marketing Strategy because many of your competitors are not consistent or are focusing on the wrong Social Media platforms.
B2B Content Marketing Agency London
Marketing Fundamentals Ltd is a B2B Content Marketing Agency in London that creates Content and manages Social Media for Professional Services firms. Want to discuss this some more?
If you would like our help creating and executing a Content Marketing Plan for your business or organisation give us a call on +44 (0) 845 2264 247. You can also email us via mail@marketingfundamentals.com
On our YouTube channel you will find marketing advice, business advice & inspiration. Subscribe if you work in Marketing for Professional Services or are a business owner or solo-preneur trying to grow your business. New uploads on Wednesdays.
Best regards,
Mike Pitt
Founder, Marketing Fundamentals Ltd
Subscribe to our Youtube channel
Follow us on LinkedIn
Online courses:
How to TurboCharge Your Business with a Blog
Meet Edgar Social Media Management
TurboCharge Your Twitter Presence
Quora For Business
Follow us on Social Media