What can Entrepreneurs Learn from Mafia Dons?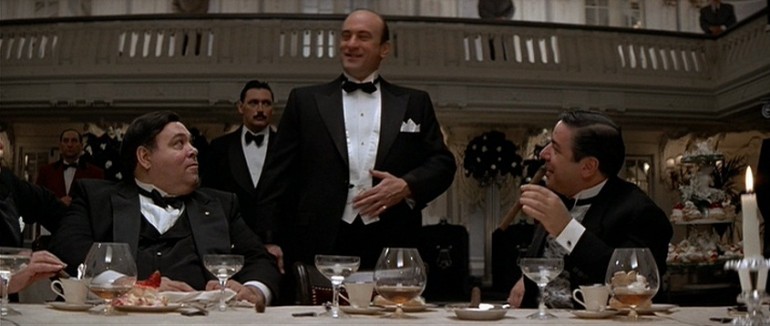 This post may contain affiliate links please read our disclosure for more info.
Business can be pretty cut throat at times but it's usually not life threatening unlike the world of organised crime. In the spirit of previous tongue-in-cheek posts today we explore the lessons that entrepreneurs can learn from Mafia Dons. Unlike many large international organisations, the Mafia also known as the La Cosa Nostra does not have an easy to read 'operations manual' or a 'brand bible'. It is very much a results- driven business with opportunities for fast advancement up the hierarchy. Below are the six top tips for entrepreneurs, with clear lessons for budding and established entrepreneurs taken from the Mafia.
Learn From the Mafia: Tips for Entrepreneurs
1.  Gut Instinct 
To survive figuratively and literally in the Mafia you must listen to your gut instinct and act on it at all times. Revenue forecasts and gant charts are fine but your gut instinct will keep you operational.
2. 100% Robust Referral Network
Everyone accepted into the organisation or as a partner or affiliate needs to be personally vouched for usually by an existing member of the organisation of at least a certain rank. We are not talking about Facebook 'likes' here as the penalties for mistakes in this area are quite harsh – death being the usual one.
3. International Alliances/ Partnerships
To be successful in the Mafia you will need to establish international alliances and partnerships that build scale and the productive capabilities of your organisation.
4. Rigid Control of the Supply Chain
To remain successful over a long period of time it is essential that you have a rigid control of the supply chain and are not at the mercy of unreliable or expensive suppliers.
5. Code of Conduct
Despite the lack of a operations manual there is a very clear code of conduct within the Mafia and this together with a definable organisational culture is precisely what you will need for the success of your enterprise.
6. Recruitment Policy 
Cultural fit is vitally important so whether your recruitment policy is dependent on family ties to the 'Old Country' and place of birth or a clearly articulated recruitment strategy and process it must also be consistently implemented. Mistakes can prove very costly.
If you've liked this post you will also like the following posts: 
B2B Content Marketing Agency London
Marketing Fundamentals Ltd is a B2B Content Marketing Agency in London that creates Content and manages Social Media for Professional Services firms. We hope you find this information useful.
We are not going to promise to help you run your business like the Mafia for obvious reasons but if you need our help creating and executing a Content Marketing Plan for your business or organisation give us a call on +44 (0) 845 2264 247. You can also email us via mail@marketingfundamentals.com
On our YouTube channel you will find marketing advice, business advice & inspiration. Subscribe if you work in Marketing for Professional Services or are a business owner or solo-preneur trying to grow your business. New uploads on Wednesdays.
Best regards,
Marketing Fundamentals Team
Follow Mike on Pinterest
Subscribe to our Youtube channel
Follow us on LinkedIn
Online courses:
How to TurboCharge Your Business with a Blog
Meet Edgar Social Media Management
TurboCharge Your Twitter Presence
Quora For Business
Follow Mike on Twitter
Image credit:  The Untouchables, Paramount Pictures – 1987 
Follow us on Social Media