7 Reasons Why Your Small Business Needs a Social Media Tool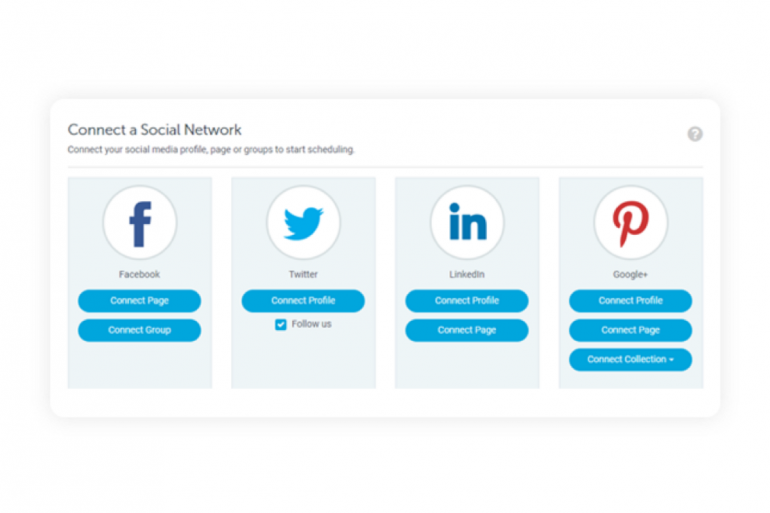 As a small business owner, you want to reach as many potential customers are possible. It's a no-brainer. But, reaching customers often comes at a cost. From purchasing ads in newspapers to purchasing email marketing lists, growing your audience can take quite a toll on your budget.  Did you know that there are over 3 billion people using social media, and the number increases every year? It's very likely that your audience is already using social media and that you can reach them using these powerful social networks.
In a survey by Bluecorona, 63% of marketers found social media to be useful for building a loyal fan base. If you want this for your business (and to be quite frank, who doesn't?), social media marketing is a must for your business.
Is Social Media Right for Your Business?
It's an easy decision to engage in social media marketing, but it can be quite intimidating when you get started. Whether you've been doing social media marketing for some time, or you're new to the game, there is always room for improvement. Using a social media tool can help you streamline processes and build meaningful relationships with current and potential customers. But, when you are dreaming big with a small pocket, you try to cut down on unnecessary expenses. So, is a social media marketing tool really necessary? Read on to learn about the top 7 reasons you need a social media marketing tool for your small business.
Taking Advantage of Social Media has Big Benefits
Your Audience is On Social Media
According to Smart Insights, the number of social media users worldwide in 2018 is 3.196 billion, up 13 percent year-on-year. If you think about it, this means that it is highly likely that your target audience is already on social media. Even if you have an extremely niche audience, it is likely that they are online and ready to engage!
You Can Reach More Potential Customers
Can you think of another marketing channel which lets you communicate with your target audience for free? Social media does just that! By posting online, engaging in forums and groups, and reaching out to influencers within your target audience, you can reach more potential customers than ever before.
Your Customer Service will Shine
Did you know that 80% of customers use social media to engage with brands? This means that being present and active on social media is a huge customer service opportunity for your small business. According to a study, customers that receive a response from brands on Twitter are willing to spend up to 20% more and are 30% more likely to recommend the brand. If you're not active and engaged on social media, you may be missing out on an opportunity to nurture and grow your business.
You Can Save More Time
While social media is one of the most effective ways to grow your small business, it can also be time-consuming. The good news is that a social media tool like SocialPilot can help you save time and become more efficient. A social media tool can help you organize, schedule, and publish content effortlessly to all of your social media accounts.
Small Businesses like yours can schedule social media posts in advance and save hours of developing content and posting it to each individual social network throughout the week. With all of that extra time, you can focus on improving your business and growing your bottom line.
You Can Get More Done
Have you ever wished for more hours in a day? Every small business owner has had this thought. While you, unfortunately, cannot get more hours in the day, you can get tools and solutions that help you save time and get more done. The right social media tool can help you collaborate efficiently, and communicate with clients with ease. With SocialPilot, you can create teams, set access levels, share approvals, and so much more. This feature was specially designed to help small businesses work together to save time and get more done.
You can control who can add posts to the scheduling queue by assigning roles, creating a virtual workflow to streamline your marketing processes.
If you have team members writing social media content, you can approve or reject posts with ease. This means you'll never have social media posts going up without your direct approval. This is so important for a small business, as an error or typo can be an embarrassing mistake.
You Can Save More Money
Saving money will help you do more with your small business. There are multitudes of ways in which the right social media tool can help save you money including increasing efficiency and reducing costs on ineffective marketing methods.
No matter whether you are assigning this task to someone in your office or managing it yourself, you will certainly save money on the number of hours spent on marketing.  This means that your business can become more efficient with the same number of employees and that you'll be bringing in an increased number of customers, too!
Additionally, if your business is an agency, you can effortlessly invite your clients using the Client Management feature by adding their name and email address to SocialPilot. You can select which accounts you want your client to connect and let you manage them.
The best part of the client management tool is that you don't need the client to exchange their account credentials or make you an admin to manage their accounts. Once the client logs in, they can connect their social media accounts on their own without sharing the details. It will directly be added into your accounts list so you can easily start creating content and scheduling for these accounts.
All your client's connected accounts and your accounts are getting mixed up? You can view them separately from Manage Accounts option and filter your client's accounts.
You Can Learn More About Your Customers
Have you ever wanted to get to know your target audience better? As a small business owner, unlocking this information is essential to understanding and connecting with your target customer. With SocialPilot's social media analytics tool, you can understand much more about your social media performance.
Measure your content performance, glean audience insights, understand the value of influencer marketing, determine the best time to post, and generate reports with the click of a button.
Social media marketing is a must for your business! Are you ready to kick start your social media marketing plan with a social media tool? SocialPilot is an efficient social media scheduling tool that helps your team save time while ensuring your business keeps growing its social media presence. If you have any questions, we're here to help! Please don't hesitate to get in touch if you need more information or simply want to chat more about which social media tool is right for you.
If you've liked this post you will also like the following posts:
Negative SEO: Should Google do More?
SEO vs Content: Which is More Important?
How to Increase LinkedIn Company Page Followers
How I Follow Up With LinkedIn Searchers
LinkedIn: How to Approach Leads the Right Way
LinkedIn Storytelling: How to Tell Stories on LinkedIn
My Most Viewed Post on LinkedIn
LinkedIn: Company Page Followers No Longer Viewable
Professional Services: How Do You Fill Your Sales Funnel?
Professional Services: How Do You Build Trust in Your Company ? 5 ways
LinkedIn: Advice For B2B Businesses – Playlist
B2B Content Marketing Agency London
Marketing Fundamentals Ltd is a B2B Content Marketing Agency in London that creates Content and manages Social Media for Professional Services firms. We hope you find this information useful.
If you would like our help creating and executing a Content Marketing Plan for your business or organisation give us a call on +44 (0) 845 2264 247. You can also email us via mail@marketingfundamentals.com
On our YouTube channel you will find marketing advice, business advice & inspiration. Subscribe if you work in Marketing for Professional Services or are a business owner or solo-preneur trying to grow your business. New uploads on Wednesdays.
Best regards,
Marketing Fundamentals Team
Subscribe to our Youtube channel
Follow us on LinkedIn
Follow Mike on Pinterest
This is blog post number 504.
Image credits: https://www.socialpilot.co/
Follow us on Social Media